News
T20 Leagues
"It's medicated," Mohammad Rizwan reveals why he carries his own pillow everywhere
Mohammad Rizwan is often seen on airports carrying a white pillow in his hands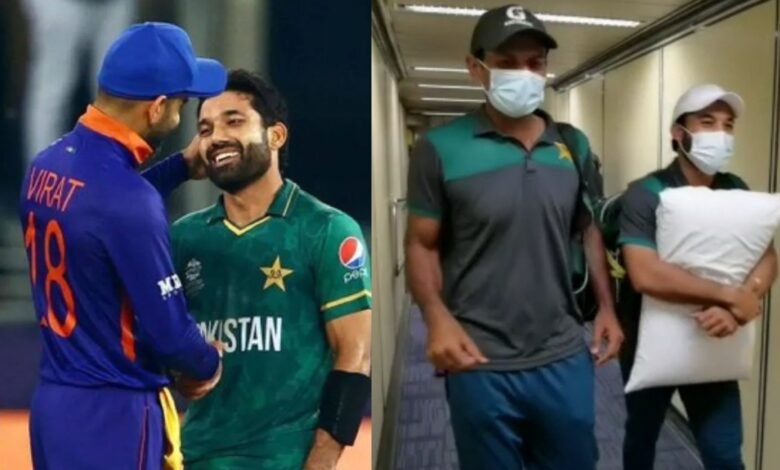 If you have seen some of the pictures of the Pakistan wicketkeeper batsman Mohammad Rizwan on the airports, he always has a pillow in his hand which he carries personally wherever he goes and a lot of people have been wondering what's the issue with Rizwan that he carries his own pillow everywhere.
Rizwan has now himself explained the reason why he does it. The 29-year old, who was the second highest run scorer in the recently finished T20 World Cup, said that since he is the wicketkeeper, he has to keep the helmet on for most parts of the game which is not the case with normal fielders.
Talking to the youtube channel of Pakistan Cricket Board (PCB), Rizwan said that a wicketkeeper has to consistently get up and down as well on every delivery behind the stumps to get into the right position. So, his movements on the ground are much different from the other players and his neck and back really take a toll because of that.
Mohammad Rizwan also opens the batting for Pakistan apart from keeping wickets
Also, since Rizwan opens the batting for Pakistan in the shortest format of the game, he hardly has any time to put his feet up at the completion of an innings if Pakistan bats second. For him to keep up with the demands of his role in the side, recovery after every game is very important for him and nothing matters more in the recovery than a good sleep.
According to Mohammad Rizwan, this particular pillow that he carries is "medicated" and it's a pillow on which he feels comfortable sleeping more than any other pillow that he is given anywhere.
Rizwan said he is so used to his own pillow that he doesn't risk sending it to his destination through some other means, in a bag or something. He personally keeps it in his hands as he makes way from one venue to another. His pillow allows him to sleep well and sleep allows him to recover well.
Mohammad Rizwan speaks about why he always carries his pillow with him.

Watch full video: https://t.co/R8J23eqvJa#BANvPAK | #HarHaalMainCricket pic.twitter.com/8TUbi09q9f

— Pakistan Cricket (@TheRealPCB) November 15, 2021