News
T20 Leagues
Ian Bishop is shocked after watching the video of new Pakistani pacer Mohammad Zeeshan
Mohammad Zeeshan is 6 ft. 8 and generates steep bounce at high pace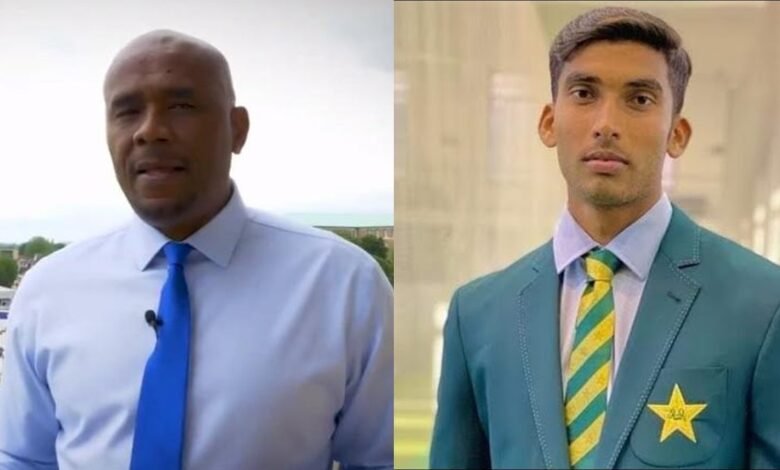 Pakistan has a history of producing quality fast bowlers, and now a new name that might be added to the list very soon is Mohammad Zeeshan. Zeeshan has been invited in Pakistan's pre-season camp ahead of the Test series against Australia and if he manages to impress the Pakistani selectors and the team management there, he might earn himself a call-up to Pakistan's test squad.
A Pakistani journalist shared footage of the bowling of Zeeshan recently on Twitter, and the former West Indies fast bowler Ian Bishop was so impressed with what he saw that he reacted to that video with a shocking emoji. The reason why Bishop reacted like that was not just because of Zeeshan's pace.
A lot of bowlers generate pace, but what makes Zeeshan different from the rest is the steep bounce that he generates from the good length areas of the pitch because of his height. He is 6 ft. 8 and it's not easy for the batsman to pick the length of the ball because of the release point being very high. And then, the extra bounce adds to the difficulty even further.
The video that has been shared on Twitter and now going viral clearly shows that the batsmen facing Zeeshan are struggling to deal with the extra bounce and are just not getting into the right positions early.
😱😱👀👀👀 https://t.co/1DCTn9SQIp

— Ian Bishop (@irbishi) February 17, 2022
Australian batsmen will pose a far tougher challenge to Mohammad Zeeshan
If Mohammad Zeeshan indeed gets picked for the series against Australia, it will bring a different sort of challenge to him because the Australian players would be far better equipped to play the bouncing ball than the players he has bowled to at the junior level so far. However, the early signs are promising for Pakistan cricket.
Pakistan has already got quite a tall bowler in Shaheen Shah Afridi, but Afridi, despite being tall, is more renowned for his ability to swing the ball early on and to bowl yorkers' at the death, rather than generating extra bounce.
However, the Pakistan fans would be hoping that at some stage in the future, they get to see Shaheen Afridi and Mohammad Zeeshan bowling in tandem.