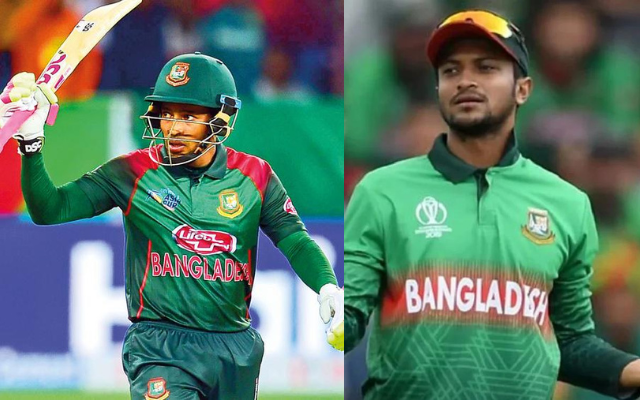 Aakash Chopra believes that Mushfiqur Rahim may have reached the end of his career in Twenty20 International cricket after Bangladesh's defeat to Sri Lanka in their Asia Cup 2022 match on Thursday (September 1).
Shakib Al Hasan and his teammates were knocked out of the competition after losing their last Group B match in Dubai by two wickets. As a result, they were unable to advance in the tournament. Only four runs were scored by Mushfiqur in the match, despite being one of their more experienced players.
What did Aakash Chopra say about Mushfiqur Rahim?
Reviewing the match that took place on Thursday in a video that was uploaded on his channel on YouTube, Chopra speculated that Mushfiqur may not play for Bangladesh in Twenty20 Internationals going ahead. He went on to explain:
"You got off to a good start with the bat, with both Sabbir Rahman and Mehidy Hasan Miraz contributing. In my honest opinion, Mushfiqur Rahim's time in Twenty20 cricket has come to an end. To begin, Bangladesh has recently competed in matches on sluggish and twisting wickets that have ranged between 120 and 125 runs, which is why they have difficulty competing when the pitches are excellent."
Chopra emphasized that the batting styles of Mushfiqur and Shakib are not well suited to the abridged version of the game. The former India opener explained it as follows:
"I don't believe that Mushfiqur has that power game because in Twenty20 cricket, if your strike rate is still around 110 to 115 even after playing in more than 100 matches, it indicates that you are not really worth your salt. Even if Shakib has a strike rate of something like 120 after 100 matches, he does not have a power game to the same extent as the other players."
Chopra believes that Bangladesh could consider batting players like Mosaddek Hossain, Afif Hossain, and Mahmudullah further up in the order. He argued as follows:
"There are a few players that possess such ability. It would seem that Mosaddek Hossain, Afif Hossain, and Mahmudullah were created for Twenty20, but their batting positions are too low in the order. At least two of these three need to be allowed to bat a little bit higher in the order. It would be problematic if they don't bat higher up the order"
In the 102 Twenty20 Internationals that Mushfiqur has participated in, he has a strike rate of 115.03 runs. Even Shakib, who has played in 101 Twenty20 Internationals, has a strike rate that is below average: 120.72.