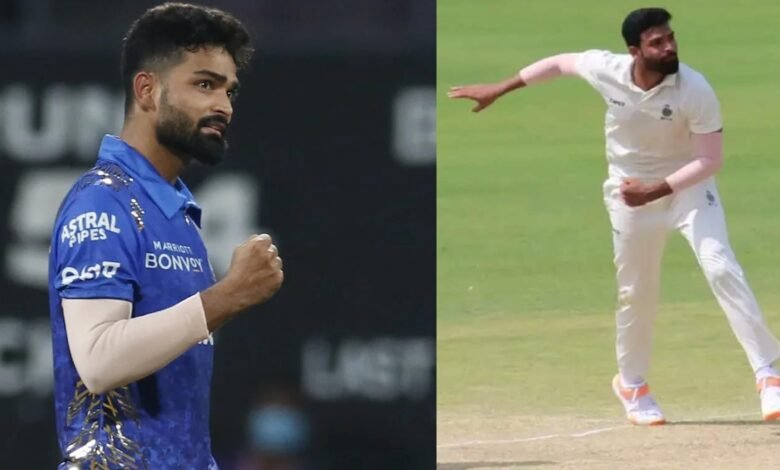 Kumar Kartikeya was one of those young bowlers who caught the eye of one and all in the recent IPL, not because he got plenty of wickets or won the purple cap, but because of the array of skillset that he showed.
Playing for Mumbai Indians, Kartikeya was not just able to bowl left-arm orthodox spin in the IPL, he bowled left-arm wrist spin and googlies too and he bowled all those different kinds of deliveries with proper control.
It was after his performances for Mumbai Indians in IPL 2022 that Kumar Kartikeya rose to prominence in the Indian cricket circles, but he didn't just stop there. Kartikeya finished his season with a Ranji Trophy title for his state side Madhya Pradesh and he played a key role in that title triumph with the ball.
Kartikeya's journey to the IPL or to first-class cricket is nothing short of a movie script. In search of better facilities and opportunities, Kartikeya moved from Madhya Pradesh to Delhi 9 years back in 2013, but he struggled to find his feet in Delhi.
Sanjay Bhardwaj changed the fortunes of Kumar Kartikeya
Kartikeya had to work as a mechanic and had to travel 80 km a day for his training, but it was his coach Sanjay Bhardwaj who changed his fortunes by taking responsibility for his daily needs and asking him to focus just on cricket.
The 24-year-old southpaw never looked back from there. Not only did he earn an IPL contract, but he has also now become one of those spinners in India's first-class circuit whom the national selectors are keeping an eye on.
In an exclusive interview with ESPNcricinfo recently, Kartikeya said when he was picked by Mumbai Indians in the IPL auction and made his debut for them, his coach Sanjay Bhardwaj texted him and reminded him that it was not the destination of his journey, but only the start of his journey.
"My coach told me you have got one blue jersey, but the main blue jersey is still left," Kartikeya was quoted as saying.