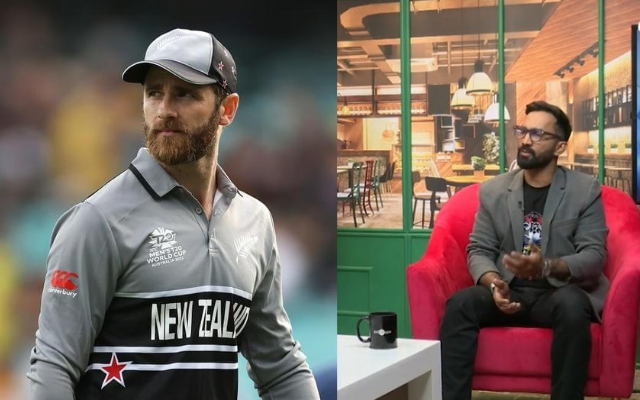 New Zealand captain Kane Williamson hasn't really lived up to his reputation in the shortest format of the game of late. The experienced cricketer struggled to improve his strike-rate, which is a bitter truth.
The right-handed batter hardly showed intent during the first semi-final against New Zealand in the 8th edition of the ICC Men's Twenty20 World Cup 2022 in Australia.
He scored 46 off 42 balls including a four and a six, which is pretty low considering a player of his calibre. His knock didn't help the team at all as they posted a modest total of 152/4 in 20 overs.
On the other hand, Pakistan cricket team won the game by six wickets with 5 balls to spare in the semi-final. Kane Williamson came under fire for his slow batting approach that put the team on the back foot in the semis.
Dinesh Karthik urges Kane Williamson to show intent in the chase
Meanwhile, India's senior wicketkeeper-batsman Dinesh Karthik has now urged Kane Williamson to show intent, especially in the chase. Kane is known to start the innings quite slowly before switching gears.
However, his recent form tells otherwise as he has been playing run-a-ball knocks which is not helping the team one bit. During the second T20I between India and New Zealand, skipper Kane was the lone performer in the game.
He scored 61 off 52 balls where he struck as many as 4 boundaries and 2 maximums before he was bowled by India's paceman Mohammed Siraj in the penultimate ball of the 18th over.
The third and final T20I between Team India and New Zealand national cricket team will be played on November 22, Tuesday at McLean Park, Napier. It will be quite interesting to see which team will use their resources properly to win the game. Team India needs a win to seal the series whereas New Zealand will be looking to level the series.
Twitter reactions:-
Dinesh Karthik himself forgot to display his intent in the entire T20I World Cup.

— Satyam Singh (@MyFreakyTweets) November 21, 2022
Someone ask DK about his T20 worldcup performance 😭😭😭

— ` (@FourOverthrows) November 21, 2022
Kane Williamson should retire from T20Is & play only tests & odis.

He is struggling big time in T20Is & I think he is past his prime in this format. Sad but true. 💔#KaneWilliamson

— THE ROCKSTAR (@VivJonty) November 21, 2022
Now a says Intent is the most abused word,there is nothing called Intent it is all about ability and https://t.co/yHSnh6CxU3 lack skill hence you can't hit the ball and you play slow.Against Pakistan he was with Virat ,when Virat was hitting boundaries ,Kartik was mistiming .

— Manas 🇮🇳 (@Manasrb2) November 21, 2022
😂😂😂😂
His intent against sa 5(17)

— Avinash kumar (@avinash1_says) November 21, 2022
Dinesh talking about intent😂 pic.twitter.com/we0busQcQt

— Anam J (@Anamj23) November 21, 2022
Nice intent from DK in T20Wc 🤒

— 𝙍𝘿𝙆 (@Goatcheeku_18) November 21, 2022
Dk don't try to teach Kane Williamson. he is one of the greatest players in this generation

— Yo (@YoYivcm) November 21, 2022
Lol. Dinesh Kartik back to advising people after winning the world cup for his side. Oh wait…

— Allester Pinto 🇮🇳🇦🇺 (@AllesterPinto) November 21, 2022