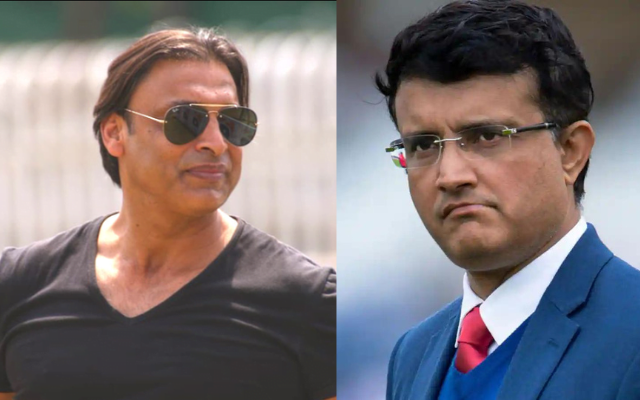 On the field, former Indian captain Sourav Ganguly and former Pakistan express pacer Shoaib Akhtar were intense opponents; yet, they enjoy a positive connection with one another currently. Although during the course of their careers, both of these legendary players engaged in a number of intense clashes on the field, it is possible that the first time they faced each other was still one of the most precarious times in the left-handed batter's whole playing career.
During the match between India and Pakistan that took place in Mohali in 1999, it is important to note that Ganguly was struck by Akhtar with a stinging short-length delivery, which caused him to suffer a blow to his ribs and forced him to be removed off the field. The former Pakistan pacer has now claimed that a squad meeting took place before the match, during which Akhtar was given specific instructions to target the Indian batsmen with short-pitched deliveries and bowl at their bodies. This information was provided by the former Pakistan bowler.
What did Shoaib Akhtar say about Sourav Ganguly?
During an episode of 'Frenemies' on Star Sports, Akhtar revealed his strategy to Virender Sehwag by saying, "I was always aiming to target the head and ribcage of a batter. We had settled on aiming for Ganguly's ribcage as our primary objective. In point of fact, we settled on the strategy at the meeting itself, while we were talking about how I would approach the opening batters. My question was, "Should I not get them out?" They replied with a "No." You have a lot of pace. You simply attempt to hit the batters, and we'll take care of getting them out."
In response, Sehwag said, "I'm sure Ganguly will be listening to this interview." After that, Akhtar shared with Sehwag that he had already shared such information with Ganguly. He stated, "I informed Ganguly afterwards that our strategy was to target you in the ribs and not get you out." 
Despite being intense competitors on the pitch, Akhtar and Ganguly have always gotten along well with one another. Akhtar was also a part of Ganguly's team and played under his leadership during the inaugural season of the Indian Premier League (IPL), which Akhtar participated in while playing for the two-time winning team, Kolkata Knight Riders. The former Pakistan bowler has also lauded Ganguly for the batting prowess he has as well as the leadership traits he possesses to propel Indian cricket to new heights.