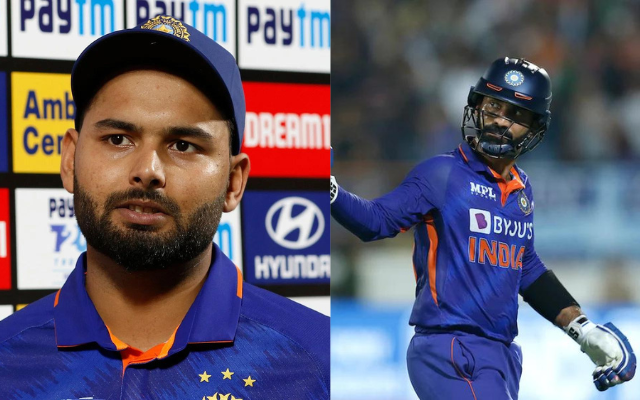 Harbhajan Singh is of the opinion that the Indian team made the correct decision by putting Dinesh Karthik into the starting XI instead of Rishabh Pant when they played Pakistan in the first match of the Asia Cup. Dinesh Karthik should play in Twenty20 Internationals and make the most of his career, according to Harbhajan, who added that Dinesh Karthik may retire in a few years.
India defeated Pakistan by a score of five wickets in their first match of the Asia Cup 2022. But one of the moves made by the team management caused some people to raise their eyebrows. It came as a surprise when Dinesh Karthik was chosen to replace Rishabh Pant in the playing eleven. Following an outstanding performance in the Indian Premier League 2022 for Royal Challengers Bangalore, Karthik has been recalled to the national team.
As a sportsperson myself who has dedicated his life to a sport he loves, I can say how much a sport can mean to someone.

To all such sportspersons and people who love to play or watch their respective sports, I wish a happy #NationalSportsDay.

— DK (@DineshKarthik) August 29, 2022
The choice to go with Karthik provided a glimpse into the mindset of the team management in advance of the Twenty20 World Cup in Australia. Karthik should participate in Twenty20 Internationals, according to Harbhajan Singh, since he has capitalized on most of his chances after the conclusion of IPL 2022.
What did Harbhajan Singh say about choosing Dinesh Karthik over Rishabh Pant against Pakistan?
"Rishabh Pant has, without a shadow of a doubt, been tremendously successful in both one-day and test cricket. He has been really helpful all along. However, in this T20I format, he has not shown himself to be an accomplished player. However, if you check out Dinesh Karthik's graph, you'll see that it's only heading in the right direction. He has given strong performances. This is the choice that should be made. In this configuration and state, reserving a spot on the bench for him is a waste of time. Dinesh Karthik's turn to bat has come around, and he has to play," Harbhajan said to AajTak in Dubai.
On the occasion of National Sports Day, remembering the magician, Major Dhyan Chand Ji.💐
His legacy will continue to inspire millions of athletes across the country. 🙌🇮🇳

— Rishabh Pant (@RishabhPant17) August 29, 2022
"Rishabh Pant is still quite young, so there is a lot of time remaining for him. Dinesh Karthik, however, has just one to two years remaining in his career, and he should capitalize on this opportunity while he still has it. Additionally, the team should capitalize on Karthik's current form. Batting down the order, he has the ability to win a significant number of matches," he said.
Pant has scored 883 runs in 54 Twenty20 Internationals, for an average of fewer than 25. When it comes to shorter forms, he has not been able to produce as regularly as when it comes to lengthier ones.