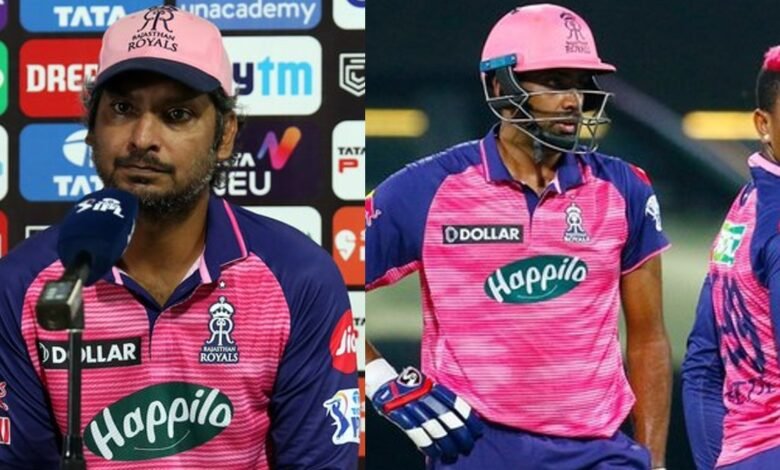 Ravichandran Ashwin grabbed the headlines yesterday during the IPL match between the Rajasthan Royals and the Lucknow Super Giants. Ashwin came out to bat at number six for the Royals when the team's score was 67/4. He stitched up a good partnership with Shimron Hetmyer. But after Ashwin scored 28 runs off 23 balls, he returned to the dressing room as retired out. Now Kumar Sangakkara has opened up about that decision.
Rajasthan Royals became the first team in IPL history to retire out a player. The team's director and head coach Kumar Sangakkara reflected on that bold call in the post-match press conference. He said it was both Ashwin and RR's decision.
It was evident that the decision was made because the Rajasthan Royals had the wicket of big-hitting option Riyan Parag in their hand. So they called Ashwin back and sent Parag out. Parag scored eight runs off four deliveries, smashing one six.
Ashwin himself was asking from the field as well: Kumar Sangakkara
Speaking to the reporters after the 3-run win against the Lucknow Super Giants, Sangakkara heaped praise on Ravichandran Ashwin for his selflessness and said:
"Ashwin himself was asking from the field as well, and we had discussed it just before that, as to what we would do. I thought the way Ashwin handled that situation, walking in under pressure, the way he batted to support the team. And then finally, sacrificed himself in terms of being retired out, was just magnificent."
The decision helped Rajasthan Royals in the end because Parag scored 8 runs off 4 balls, and eventually, the win margin was of three runs. Debutant Kuldeep Sen was the hero for the Rajasthan Royals as he defended 15 runs off the last over against a well-set Marcus Stoinis.
Sen stole the show on his debut by bowling three back-to-back dot balls to the star all-rounder of the Lucknow Super Giants team.