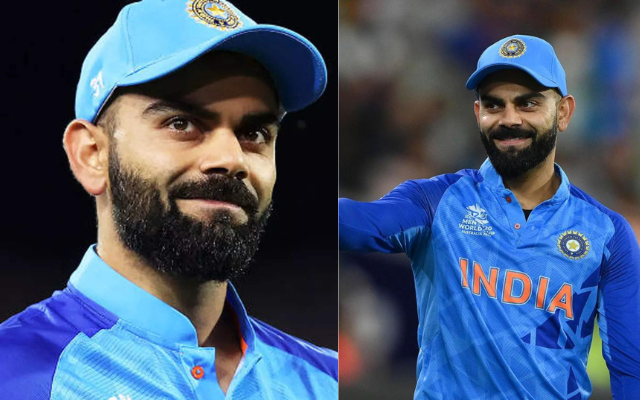 Virat Kohli has truly been the best in the business when it comes to approaching the big tournaments with a fresh perspective. Whenever he comes out to bat, the first thing that he does is assess the conditions. 
Once he knows how the pitch behaves, he literally tweaks his approach in such a way that he goes about his business so much that he breaks the confidence of the opposition teams. 
The opposition teams need to plot a trap to dismiss Kohli early on in the game, else there is no stopping him. There were several instances of Kohli dominating the game in big tournaments.
Yes, his batting average has been simply spectacular since 2012, which goes to show that he truly is the big-game player in the world. India largely benefitted from the batsman's services for more than a decade. 
Virat Kohli maintains a massive batting average in big tournaments since 2012
He showcased unreal consistency in the recently-concluded ICC Men's T20 World Cup 2022 in Australia. The world's best batsman across formats scored 296 runs including 4 fifties (against Pakistan, Netherlands, Bangladesh and England). 
In the process, he went on to become the leading run-scorer in the history of the T20 World Cup. He maintained a brilliant batting average of 98.6 in the recently-concluded showpiece event. 
He has been statistically very impressive and imperious in numbers as far as the big tournaments are concerned since 2012. Taking a glimpse at his batting average in major tournaments since 2012, he has been quite phenomenal.
In the 2012 Asia Cup, his batting average was 119 and in the 2012 T20 World Cup, it was 46.25. During the ICC Champions Trophy 2013, Kohli's batting average was 58.6.
On the other hand, during the Asia Cup 2014, his batting average reads 63 whereas he maintained a mind-blowing batting average of 106.3 in 2014 T20 World Cup.
During the ICC ODI World Cup 2015, it was 50.8 and during the 2016 Asia Cup it was 76.5. During the 2016 T20 World Cup, he had an average of 136.5 whereas during the 2017 Champions Trophy, his staggering batting average reads, 129.
He played a phenomenal role in ICC ODI World Cup 2019 as his batting average reads 55.38. During the 2021 T20 World Cup, his batting average was 34. In the 2022 Asia Cup, it was 92.
Twitter reactions:-
Lowest avg is 34 in 2021 WCT20 where he didnt chose to bat against Scotland and Namibia 🥵 https://t.co/Tbg6bLfg7E

— Ash (@Ashesquee) November 18, 2022
Still 0 trophies 🤣 who wants average https://t.co/u1MuFrIgAp

— Harris 🇳🇿 (@kiwi_batman) November 18, 2022
the greatest there was, the greatest there is & the greatest there will be.
Nobody comes close. https://t.co/AdWOJJ4xAI

— ⎊ (@joeys_chandler) November 18, 2022
Never had a bad or failure wc with bat
In his 14 yr career 🙏 https://t.co/WCM1N4PN9o

— • MCG 82* (@KohlifiedGal) November 18, 2022
Almost har tournament me perform Kia h https://t.co/WOgeKPwojl

— Shubh (@VK18Shubh) November 18, 2022
Zero trophy. https://t.co/1nlnutEmXL

— CEO of PCT Fanclub..⁷!!🇵🇰 (@thtshortgirl_) November 17, 2022
He has performed in each and every fucking tournament https://t.co/Kh8gGTKAy1

— Priyanshu Gupta (@cricwithprynshu) November 17, 2022
THE GREATEST WHITE BALL PLAYER IN THE HISTORY OF CRICKET 🐐 https://t.co/aEkwJ2E2XA

— Λ (@KohliCrews) November 17, 2022
Just an example of why he is the best!! https://t.co/QnwMOOlakp

— Abhishek Sharma (@Abhysharma13) November 17, 2022