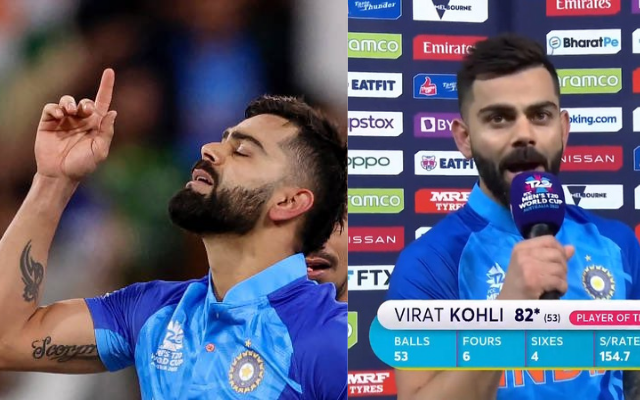 Former Indian skipper Virat Kohli was last seen donning the international outfit for India in the recently-concluded ICC Men's T20 World Cup 2022. Ahead of the start of the tournament, Kohli was the second leading run-getter for India in the showpiece event.
However, as the tournament kick-started, the run-machine climbed ladders to a great extent. In the process, he went on to break several records as he became the leading run-scorer in the history of the T20 World Cup.
He finished the eighth edition of the T20 World Cup as the leading run-scorer. Having played six games in the tournament, the veteran cricketer scored 296 runs which included 4 half-centuries to his name. 
Virat Kohli shows incredible consistency in T20I format since 2012
The former Indian captain has often led the batting attack by example. He scored a match-winning 82* off 53 balls against Babar Azam-led Pakistan cricket team and after which, he scored another unbeaten of 62 against the Netherlands cricket team.
The right-handed batsman also scored 64 off 44 balls against the Bangladesh cricket team. His performance helped Team India make it to the semi-finals of the marquee event in Australia.
Kohli also scored a terrific fifty against the England cricket team in the semi-finals of the Twenty20 World Cup. However, his knock went in vain as England chased down the target with 24 balls to spare as they won the game by 10 wickets.
Meanwhile, a recent stat about Virat Kohli's performance in the T20 formats since 2012 for India has been doing the rounds on the internet. 
The 34-year-old batsman has been the leading run-scorer for India in 2012, 2014 editions of the T20 World Cup. He was also the top run-getter in the 2016 Asia Cup. As far as the 2016 and 2021 World Cup tournaments are concerned, Kohli was the leading run-getter for India.
Even during the 2022 Asia Cup, Kohli was the leading run-getter for India. He continued his rich form in T20 World Cup and ended up as the top-scorer for India again.
Twitter reactions:
Yeah. The stats are good. But out of the following how many tournaments has #TeamIndia won?? It's a team work game. #ViratKohli𓃵 #RohitSharma https://t.co/w4FIhm8oIk

— Anish Ladsaria (@anish92) November 14, 2022
Yeah. The stats are good. But out of the following how many tournaments has #TeamIndia won?? It's a team work game. #ViratKohli𓃵 #RohitSharma https://t.co/w4FIhm8oIk

— Anish Ladsaria (@anish92) November 14, 2022
Chasing, Wt20, Asia cup,
50+ scores, 4k runs, 50+ avg, 138 SR, 81 Avg in Wt20, 2 MOT's, 15 MOM awards, Highest avg in Chasing anitlo domination

Greatest T20i Batsman of all time without a debate.. evadu panikiradu https://t.co/aCzF9imM8p pic.twitter.com/EBs1h5juVA

— S P Y (@Kohli_Spy) November 14, 2022
He is beyond comparison!!! 🔥 #ViratKohli𓃵 https://t.co/iDiCD4k0JQ

— Yash Thakur (@YashThakurYT) November 14, 2022
Greatest of all time. https://t.co/HOjg7srUXK

— Anant Srivastava (@imAnantSri29) November 14, 2022
One & Only KING VIRAT KOHLI 👑❤️ @imVkohli https://t.co/aiA0k1p0Qj

— RajDEEP🇮🇳 (@iamrajdeep82) November 14, 2022
Still some people don't want him in T20 team , ok I want to ask a question to those person that the player who played in place of @imVkohli in these tournaments can dominant like this stat ? https://t.co/95SOzID8XJ

— Amar Singh (@imAMARone8) November 14, 2022
Indian cricket team is highly dependent on @imVkohli . Where are the cricket pundits who criticized Kohli daily on media after the T20 World Cup? https://t.co/wJLIGl8AOY

— Concerned_citizen31 (@sripal_chandra) November 14, 2022