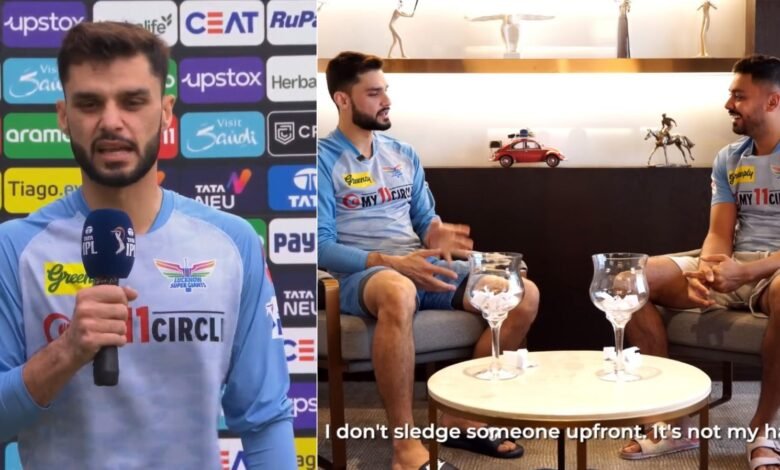 Sledging is quite common in sport and it happens during the peak situations when the players of both teams are giving it all to win the contest. In such cases, some players tend to lose their cool and vent their frustration on the opposition players.
The cricket fraternity has witnessed countless incidents of players indulging in verbal exchanges or some nasty comments towards their opponents during the passage of play.
Basically, it is a kind of tricky tactic  to distract the opposing team and individual players, with a purpose of gaining a psychological advantage over the opponent.
During the sixteenth edition of the Indian Premier League, the one incident that took us all by surprise was the incident involving Gautam Gambhir and Virat Kohli. The incident happened after the game between LSG and RCB at Lucknow Stadium.
Naveen-ul-Haq said it's not his habit to sledge someone upfront
Both Gambhir and Kohli were involved in a war of words after the game. Even during the game, the likes of Virat Kohli and Naveen-ul-Haq were seen exchanging a few words, which didn't do good one bit.
This very incident initiated a spate of quarrels till the post-match presentation, an episode that rocked the entire cricket fraternity. After the game, Naveen-ul-Haq, Gautam Gambhir and Virat Kohli were penalized with fines.
Some days later, Naveen-ul-Haq posted two cryptic posts taking an indirect dig at Virat Kohli. The first post highlighting "sweet mangoes" came after Virat Kohli's dismissal against Mumbai Indians. The second post came right after Mumbai Indians beat RCB in the game at Wankhede Stadium in Mumbai.
Meanwhile, Naveen-ul-Haq was caught in a short interaction with teammate Avesh Khan. Avesh Khan asked the Afghanistan international, "your favourite sledge on the cricket field which is done by you or someone else?" Naveen Ul Haq replied, "I don't sledge someone upfront, it's not my habit."
guy trying to hard to be relevant https://t.co/4JwgSuBEwK

— VK (@Vtweets21) May 12, 2023
Naveen Ul Haq trying too hard to stay relevant 🤡🤡 pic.twitter.com/Ocmdavi8pa

— Bhupender Thakur (@MisterBeeTee) May 12, 2023
Thisara Perara, Afridi, Amir, Darcy short laughing in the corner

— Sai Krishna💫 (@SaiKingkohli) May 12, 2023
— T🐺 (@Drivxnfor4) May 12, 2023
2 attitude boys doing their own interviews. This is next level comedy .

— vamsieee speaks (@vamsiRebel97) May 12, 2023
They're trying to milk it. Good going LSG.

— Happy Mahto (@Happymahto07) May 12, 2023
— Pratham (@Pratham7340) May 12, 2023
Savage naveen

— Messi 🐐 (@RohanRanja13282) May 12, 2023
Literally everyone's honest reaction pic.twitter.com/6tMgZRpZVo

— 💉 (@dtsaae) May 12, 2023
Let's not give it much air for the incident that happened. Their haters are just adding fuel to the controversy. Let karma handle everything.

— soham sarang (@sarangsoham) May 12, 2023