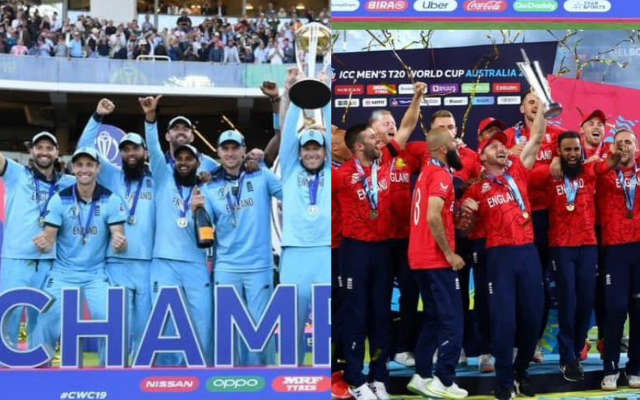 England cricket team etched their name into the record books after they won back-to-back World Cups (ODI World Cup 2019, T20 World Cup 2022). Before they won these two titles, they were long been criticized for not showcasing their mettle in ICC events.
However, the Three Lions took their performance to the next level and went on to make a name for themselves in the ICC events. England cricket team led by Jos Buttler made a strong statement in the 8th edition of the ICC Men's Twenty20 World Cup 2022 in Australia.
England cricket team made it all the way to the finals of the competition by beating Team India in the semi-final in Adelaide. Jos Buttler and Co beat Babar Azam and Co in the final to win their second T20 World Cup title.
Fans slam England's Barmy Army after the latter tried to take a swipe at Indian fans on Twitter
England's Barmy Army tried to take a dig at Indian fans on their official Twitter handle. It all started when the official Twitter handle posted two pictures of England winning both the World Cups (ODI World Cup 2019, T20 World Cup 2022).
Under Eoin Morgan's captaincy, England won the ODI World Cup in 2019 as England beat New Zealand based on boundary count rule. Upon posting the picture, England's Barmy Army tried to troll Indian fans on Twitter.
The official Twitter handle of Barmy Army purposely wanted to troll the Indian fans by saying that England only win big titles and not PayTMS. The caption of the post reads, "Astonishing the amount of Indian cricket fans in our mentions. We only do big trophies not PayTMS"
Team India last won the ICC title back in 2013 when they won the Champions Trophy in England. Before that, India won the ODI World Cup in 2011 and T20 World Cup in 2007. All these three titles came under the captaincy of MS Dhoni.
Cricket origin country almost took 30 years to win ODI wc

Btw we won our maiden t20 wc after smashing six sixes to poor "froad" 😂😂@TheBarmyArmy https://t.co/1bx33bUou9

— SuryaVirat (@Sudhir44612324) November 22, 2022
Cricket origin country almost took 30 years to win ODI wc

Btw we won our maiden t20 wc after smashing six sixes to poor "froad" 😂😂 pic.twitter.com/1e5QXaQxo7

— SuryaVirat (@Sudhir44612324) November 22, 2022
Your country is yet to adapt services like Paytm 🤣🤣🤣

— AV (@heretoroar) November 22, 2022
India
Accounted for the largest number of real-time transactions (48.6 billion)
in the world in 2021.
This is 3x of China and 7× combined real-time payments volume of the US, Canada, UK, France and Germany.

— Nikhil Vidyarthi (@nikhilvidyarthi) November 22, 2022
Special moments in Indian Cricket History:-

1983 World Cup Win.
2011 World Cup Win.
2007 T20 World Cup Win.
2013 Champion Trophy Win

Nd remember that @YUVSTRONG12 Hits Six – 6's in an over against @StuartBroad8 s bowling 😂 pic.twitter.com/ZfcVphJkEX

— charan chowdary 😎 (@_charanchowdary) November 22, 2022
we won it by playing cricket while u guys won 2019 wc by playing hockey pic.twitter.com/QA4mjgGsnN

— ` (@SH_Tweetss) November 22, 2022
Icc trophies
India 5
England 3
😂🤣
Icc test mace winner
Ind 5 times
England 2 times
🤣🤣😂🤣

— Saurabh (@thefreak6677) November 22, 2022
You are been hammered left right 😃😃 and you thinking about Indian fans .. that shows your frustration pic.twitter.com/t2fhh9qRB8

— Anand Patil (@Siriplanet) November 22, 2022
Ladies and gentlemen….. presenting in front of you…. another father of minnow England….."Travis head"…. Welcome Travis in minnow bashers club of Steven Smith and David Warner

— Cricktime (@Cricktime22) November 22, 2022
don't forget that you lost to TEAM INDIA in 2013 Champions Trophy final and that too at your home.

— saistunz (@saistunz10) November 22, 2022