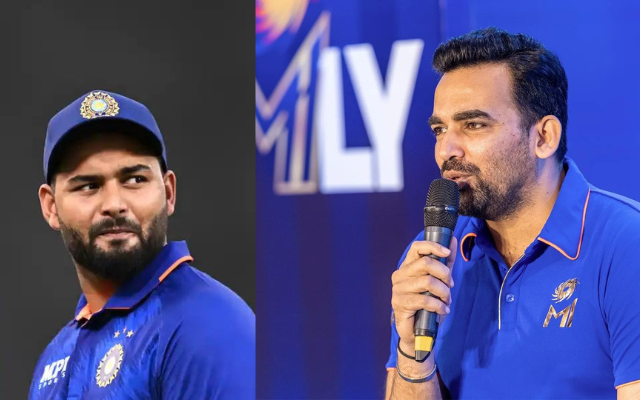 Rishabh Pant, the current captain of India, is said to rely much too heavily on his instincts, according to Zaheer Khan. Zaheer saw some parallels between the young player's batting and the leader's style, highlighting the fact that everything with him revolves around two opposite poles.
Even though Pant was removed for a clumsy 17 off 23, there was some good news for him as India defeated South Africa in the fourth Twenty20 International by a score of 82 runs to tie the five-match series at 2-2. As India's bowlers cleaned up the Proteas for 87 while defending a total of 169, the critics were moderately satisfied with the keeper-batter's leadership for the Indian team.
During his postgame comments, Zaheer was also quite complimentary of Pant. However, he did have some words of wisdom for the young skipper to consider. The former cricketer shared his thoughts on the topic while participating in a conversation on Cricbuzz.
What did Zaheer Khan say about Rishabh Pant?
"Whenever he scores runs, everyone talks about how good he is. People continue to discuss him even when he does not perform. His captaincy follows a pattern that is reminiscent of that type. We can't rush him. We have to give him time. He enjoys challenging conventional ways of thinking. He leans rather too heavily on his gut impulses in his decision-making. He is the kind of person that enjoys taking several risks. When he takes judgments that are on the extreme, he has to find that balance. It's exactly the same as his batting," Zaheer Khan.
However, Zaheer praised the young player's approach to the sport and said that the player, who is just 24 years old, would undoubtedly improve as a cricketer as he gains more experience. The man, who is 43 years old, said:
"If there's one thing that strikes me about him, it's the fact that he takes his cricket so seriously that no one can dispute. He has a lot of enthusiasm for the sport. He wants everything to move as quickly as possible. Because he has a plan for his future, it is only a matter of time until he achieves his goals."
Scores of 29, 5, 6, and 17 have been recorded for the stand-in Indian skipper in the first four matches of the Twenty20 International series.