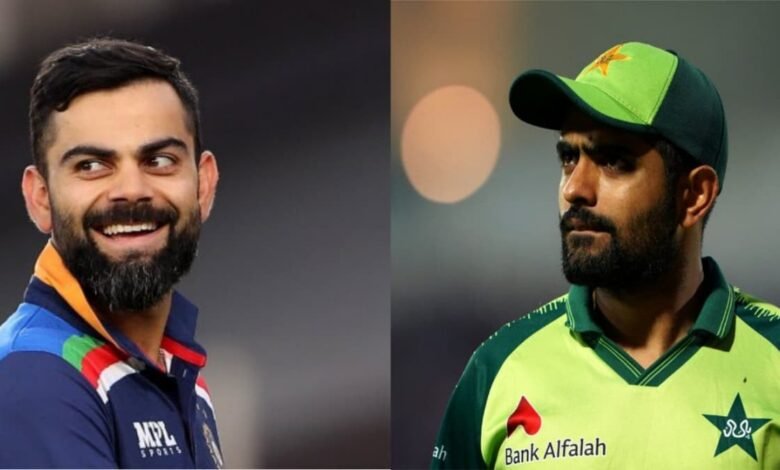 Pakistan captain Babar Azam has refused to reveal anything about the chat he had with the former Indian captain Virat Kohli during the T20 World Cup encounter of India and Pakistan recently in UAE.
It was the first time ever that Babar Azam was captaining Pakistan in a World Cup match and he was indulged in a chat with Kohli ahead of the start of the game and then after the game as well, in the presentation ceremony where the two captains were present to share their thoughts.
Virat is not India's limited over captain anymore as he has recently been removed as the ODI captain, after he resigned as the T20I captain himself before the T20 World Cup.
A Pakistani journalist asked Babar's opinion on Kohli's removal in his pre match press conference ahead of the first T20I against West Indies, but he refused to say anything on the matter and also said that he wouldn't disclose anything about the conversation he had with Kohli in Dubai.
The Pakistan team's media manager also interrupted the journalist while he was talking about Kohli's sacking. The journalist was told to keep the questions centred around the West Indies series and not bring in questions related to the other cricket boards.
Babar Azam will captain Pakistan in a home T20I series starting in Karachi
This is the first time a foreign country is touring Pakistan after the New Zealand cricket team abandoned their tour abruptly before the T20 World Cup, citing security threats and the inputs received from their government and intelligence.
The West Indies cricket board, however, seems convinced with the security arrangements in Pakistan as the series is all set to get underway in Karachi. West Indies has sent their second string side, as a lot of their main players are not available for the series because of personal reasons and injury issues.
Here are the bits of the press conference addressed by Babar Azam ahead of the first T20I against West Indies –