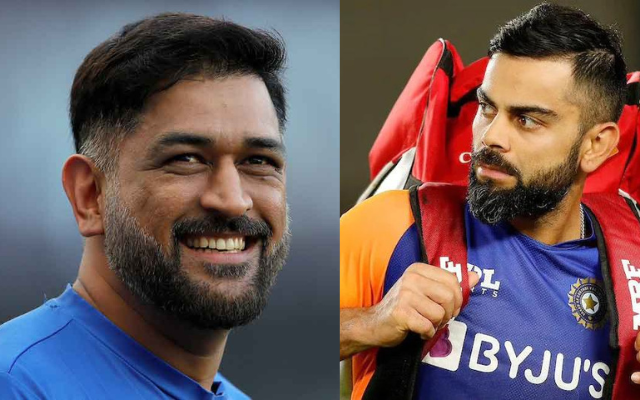 Virat Kohli has never been bashful in expressing his gratitude to his predecessor as captain of India, MS Dhoni. Whether it be tweeting just before midnight about his innings in the Indian Premier League or even posting something completely weird on Instagram just before a major competition.
And now, the 33-year-old man who stepped down as India's Test captain at the beginning of this year has revealed that Dhoni was the one to reach out to him even through the worst times of his life. 
In the press conference that followed India's loss to Pakistan in the Super 4 stage of the Asia Cup, Virat Kohli said that Mahendra Singh Dhoni was the only person to contact him after he announced his decision to step down as captain of India's test team.
What did Virat Kohli say?
During the press conference, Kohli said: "When I left Test captaincy, I got a message from only one person, with whom I played in the past. It was MS Dhoni. A lot of people have my number, a lot of people give me suggestions, and a lot of people talk about my game on TV. But out of those people who had my number, I didn't get a message from anyone else barring Dhoni.
You have respect, you have a genuine connection with a few people and it looks like that (Dhoni messaging him). It's a two-way security, I don't want anything from them nor do they want anything from me," he added. "I don't feel insecure with them, nor do they feel insecure with me."
Everyone was taken aback when Kohli announced his intention to step down as Test captain, given that he is by far the most successful Indian Test captain of all time and one of the most successful in the world of cricket. But a chain of unfortunate circumstances, beginning with his resigning as captain of the Twenty20 Internationals and culminating with the selectors removing him from his role as captain of the One-Day Internationals, led him to the conclusion that he no longer wanted to be a captain.
It was a difficult time for him as his own batting form suffered, and he recently admitted that there have been times recently when he felt he was faking it on the field and did not appear to be as up for cricket games as he typically is. However, it seems that taking a total vacation from the game for a period of one month has done him wonders, as he appears to be revitalized, and his form appears to be improving with each appearance.