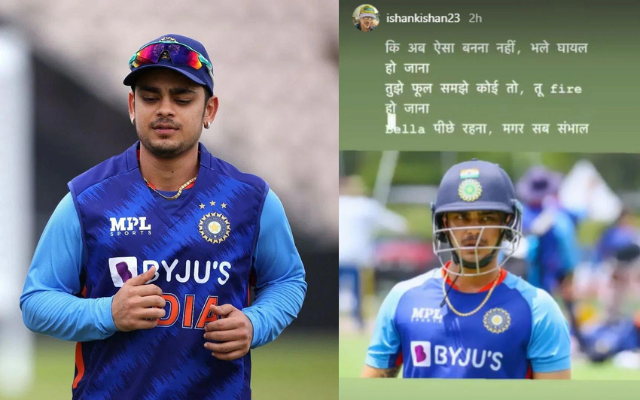 Ishan Kishan, the opener for Team India, is one of the players who has been with the team more or less consistently since the previous Twenty20 World Cup. In the Twenty20 format of the game, Ishan has opened for India the majority of the time whenever the first-choice openers have been unable to do so due to injury or other commitments. However, when the Asia Cup and the Twenty20 World Cup drew closer, the management decided to bench him even though he had performed well up to that point.
Rishabh Pant and Suryakumar Yadav were moved up to bat at the top of the order, even though they had spent the majority of their international careers as middle-order batters. This was done because the management of the team used several different opening options within a short period. Ishan Kishan was a member of India's Twenty20 International team up till the just-finished series against the West Indies. Ishan Kishan, on the other hand, was not included in any of the teams that were selected for the Asia Cup, not even the reserve teams.
India's two highest T20I run-scorers in 2022 are not in their Asia Cup squad 👇

Did Shreyas Iyer and Ishan Kishan deserve a spot? pic.twitter.com/67iLpZe5xM

— ESPNcricinfo (@ESPNcricinfo) August 10, 2022
Ishan Kishan is not part of the Indian squad for the Asia Cup 2022
Deepak Hooda was selected ahead of Shreyas Iyer and Ishan Kishan for a backup berth in the top three. This is because former Indian skipper Virat Kohli and current vice-captain KL Rahul have returned to the team, and it is anticipated that they will bat in the top three positions. Additionally, Shreyas Iyer, along with Deepak Chahar and Axar Patel, was selected to participate in the event as one of the three reserve players.
Ishan Kishan Insta Story 🥵🔥
Dynamo Will Roar Fs!!🦁 pic.twitter.com/dIFJieaJ2C

— ♡♡ (@anshuu23) August 10, 2022
In the meantime, this made Ishan Kishan feel a little bit upset, and you can see that feeling mirrored in one of the tales that he recently posted on his Instagram account as well. A portion of the rap is included in the Instagram story, and it advises individuals not to make the same mistake again by being weak in any circumstance, but rather to transform themselves into beasts.
On the other hand, he is looking forward to the forthcoming Zimbabwe trip and hopes to play a significant role in the one-day international series as both a wicketkeeper and a batsman.