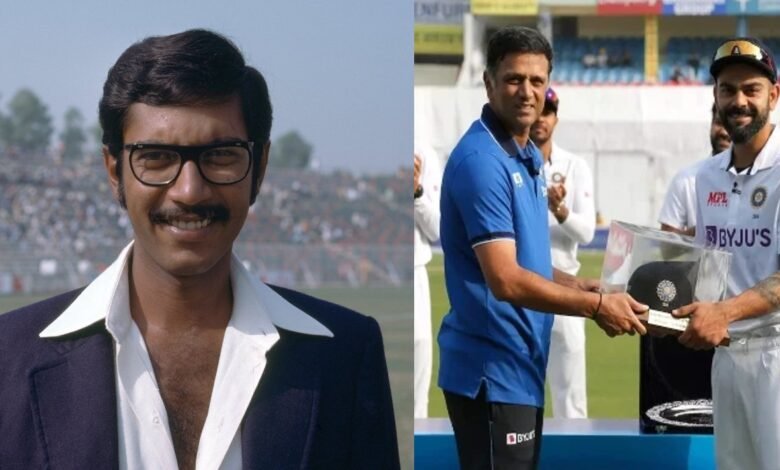 The former Indian coach Anshuman Gaekwad doesn't think that Virat Kohli has reached the twilight of his career and his international career will reach its conclusion in the next few years. According to Gaekwad, the kind of fitness Virat has been able to maintain over the years, if he keeps up that fitness standard, he can still play for a decade.
The international career of Virat Kohli has gone on a downward slide since the game has resumed post pandemic and it has gone particularly downward in test match cricket where he has struggled to achieve consistency. But, Anshuman Gaekwad doesn't see Virat's recent form as a problem at the moment.
According to Gaekwad, who was in a conversation with News18, fitness is something which sets Virat apart from anyone else because it has allowed him to play 100 test matches in a very short span of time. He has hardly missed a test match due to injury and if his fitness remains the way it has been, he is the only player in the world who has any chance to get close to Sachin Tendulkar's record of playing 200 test matches.
Prediction of Anshuman Gaekwad seems a bit unrealistic
Its's not only Sachin's record of playing 200 test matches, but many people believed a couple of years back that Virat had a realistic chance of breaking Sachin's record of 100 international hundreds as well, as Virat had already accumulated 70 international hundreds at just 31 years of age.
But, with no hundreds for Virat in the last couple of years in any format of the game, people have started doubting if Sachin's record of 100 hundreds can ever be broken or not.
As far as Gaekwad's prediction that Virat can play 200 test matches, it also seems unrealistic at the moment, even with the supreme fitness that Virat has. Virat is 33 years of age now and while it remains a possibility he might play till 40 or beyond, 200 test matches is a number far fetched.