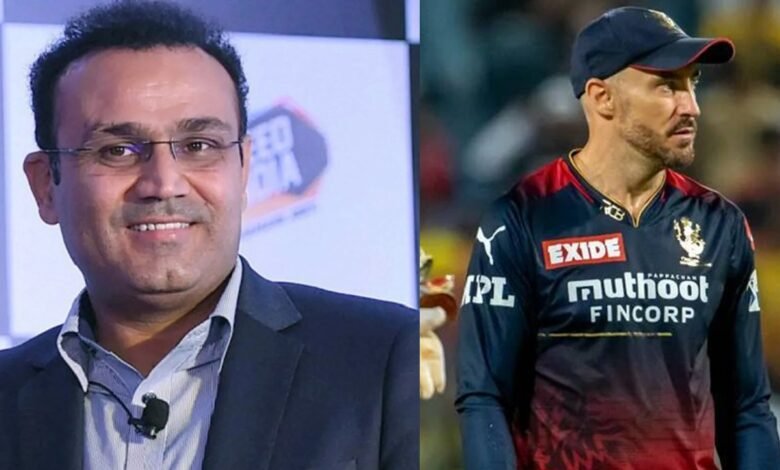 Former Indian cricket team opener Virender Sehwag has stated that the Royal Challengers Bangalore team management did a good job by appointing Faf du Plessis as their new captain ahead of the 2022 edition of the Indian Premier League. Sehwag said that because of the mutual respect between former RCB skipper Virat Kohli and du Plessis, he can listen to his advice but also not consider it if not needed.
Speaking on Cricbuzz ahead of the IPL 2022 playoffs, Sehwag said that had the Royal Challengers Bangalore appointed an Indian player as their captain for IPL 2022, he might always yes to the suggestion given by Virat Kohli. However, the same has not happened with Faf du Plessis yet.
Sehwag also pointed out that the coach of the team Sanjay Bangar has good bonding with Virat Kohli, which is why he would have been able to explain to the former captain that he can give advice but if the team thinks something else, it might not be implemented. Here's what Sehwag had to say:
"If it had been an Indian captain and if Virat had given advice, he might have to accept it under pressure. So this is what has changed with du Plessis as captain. Sanjay Bangar has also worked with Kohli and he can have a conversation with him about that although he gives advice, the team wants to do something else."
Virender Sehwag thinks Royal Challengers Bangalore can make it big under Faf du Plessis in IPL 2022
During the same chat, Virender Sehwag added that, unlike the last few seasons, the opposition teams do not need to stop only two players of the Royal Challengers Bangalore lineup.
Initially, the opposing teams would gain an upper hand if Virat Kohli and AB de Villiers were dismissed, but according to Sehwag, the trend has changed now, which is why 2022 could be RCB's year.