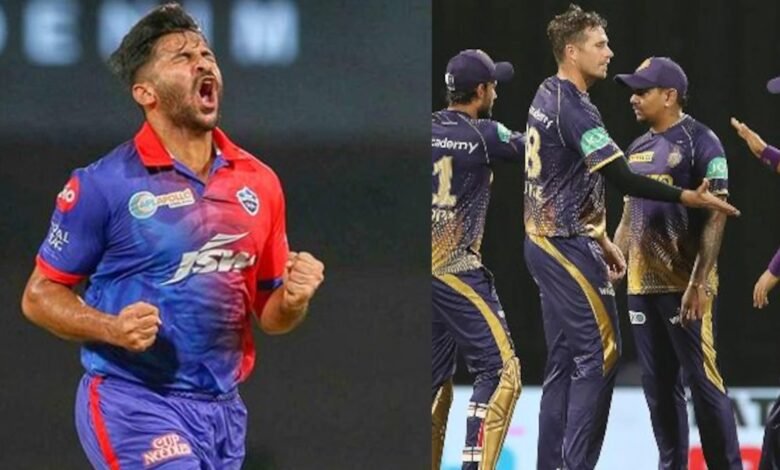 As the T20 World Cup is over, the Indian cricket fans are already abuzz about the upcoming edition of the IPL. As the trade window continues to make noises for all the right reasons, in an absolute bomb, as per ESPNCricinfo, Shardul Thakur was announced to be traded to Kolkata Knight Riders in the upcoming IPL.
Kolkata Knight Riders had a woeful season in 2022 where they could hardly deliver something for themselves with their batting unit being all over the place. Their bowlers had very little to show for either as wickets were hard to come by. Most importantly, their all-rounders were almost a now show as the impact that they had on the fabric of the tournament was almost near to zero.
The inclusion of Shardul Thakur would do a world of good for the Knights as not only is he a wicket-taker but he can bat strongly in the number 6 or 7 position, thereby extending KKR's batting unit pretty deep enough.
Until Kolkata lays their hands on a decent batter to partner with Shreyas Iyer in the middle, their woes would know no ends. They are a strong side and would be hoping to put in a staunch display to manifest their position.
Here is what Twitter had to say about Shardul Thakur
They would also be hoping for Venkatesh Iyer to return to his former self despite recovering from an injury. It was already proven that he can be a massive gift to any side if he gets going. Both Thakur and Iyer can also be a great bowling combination in the middle, especially considering the kind of impact this duo can have on the fabric of the contest.
Twitter was shocked, happy and sad at the same time as Shardul Thakur would be donning the KKR jersey for the first time in the antiquity of the tournament. They didn't miss out on letting the world know that they were all set to see the Lord play for Kolkata.
Shardul Thakur is a decent T20 asset to have in your squad. But not one to spend 10.75 crores on! DC made a mistake spending that much on him in the last auction. Didn't think another team would repeat that mistake but here we are! Way to go, KKR! #IPL2023

— Prasenjit Dey (@CricPrasen) November 14, 2022
𝗪𝗲𝗹𝗰𝗼𝗺𝗲 𝘁𝗼 𝗞𝗻𝗶𝗴𝗵𝘁 𝗙𝗮𝗺𝗶𝗹𝘆 Shardul Thakur 💜💛
We hope for a long and successful journey with you… @imShard 💯
👀 On to #IPL2023#KKR #ShardulThakur #IPL2023 #Trade pic.twitter.com/TZMbPa7HzR

— Shreyas Aryan (@Ariyen93) November 14, 2022
Shardul Thakur is Traded from Delhi Capitals to Kolkata Knight Riders in an all cash deal
Who saw that coming?😳

— Cricket🏏 Lover (@CricCrazyV) November 14, 2022
Venky Mysore (who had done only 1 trade until 2022) after doing 3 trades in a span of 2 days 🥸😭#ShardulThakur #KKR #IPL2023 https://t.co/GcdFl8G1DH pic.twitter.com/ea5Z0lX5Ny

— Sagar (@SRKsArmour) November 14, 2022
Shardul Thakur will play for Kolkata Knight Riders in IPL 2023. Surprising to me. Pat Cummins and Shardul add a lot to batting depth of KKR now.#IPL2023

— Himanshu Pareek (@Sports_Himanshu) November 14, 2022
From where KKR got 20cr for Shardul Thakur and Lockie Ferguson?

— R A T N I S H (@LoyalSachinFan) November 14, 2022
I'm sorry Venky Mysore for doubting you. Thank you!!!! I'm crying happy tears as a KKR fan!!! 😭😭😭💜💜💜#ShardulThakur #KolkataKnightRiders #ipltrade https://t.co/US6Zc503e9

— sayan (@sayantwts) November 14, 2022
✅ Shardul Thakur is off to Kolkata Knight Riders. Welcome to Eden Gardens, LORD!#IPL2023 @RevSportz

— Subhayan Chakraborty (@CricSubhayan) November 14, 2022
🚨🚨| Shardul Thakur traded to Kolkata Knight Riders. The deal involves cash only.#KKR | #IPL2023

— KnightRidersXtra (@KRxtra) November 14, 2022
Shardul Thakur in IPL 2023 be like🔥#Shardulthakur #IPL2023 pic.twitter.com/9aC5wwyaH6

— Ashutosh Srivastava (@kingashu1008) November 14, 2022