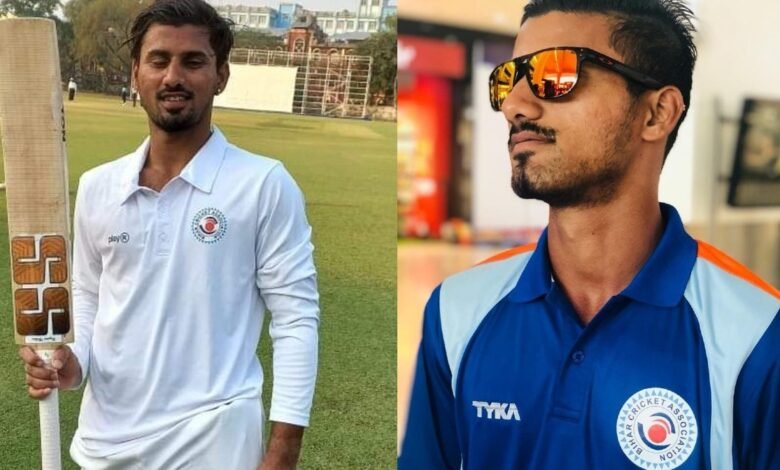 The 2022 edition of the Ranji Trophy is currently underway in different parts of India. The tournament has given a platform to the domestic players across the country to come and showcase their talents in the red-ball arena. The latest name to take advantage of this platform is Sakibul Gani.
Not many fans would have heard his name before, but the 22-year-old has created a world record today in Ranji Trophy. Born in Motihari, Sakibul Gani made his first-class debut for Bihar in the ongoing match against Mizoram at the JU Second Campus, Salt Lake.
Bihar batted first in the match and lost their opener Mahrour in the second over itself. Yashaswi Rishav and Lakhan Raja took the score to 71 before losing their wickets. Then, Sakibul Gani joined hands with Babul Kumar in the middle and both Bihar batters had a fantastic partnership.
They took the score from 71/3 to 609/3, where Gani scored a triple hundred, while Babul has completed his double century. Gani has now lost his wicket after scoring 341 runs off 405 deliveries, smashing 56 fours and two sixes.
He set a world record for the highest individual score by any player on first-class debut. The youngster batted at a magnificent strike rate of 84.20 and took his team's total past 600.
Twitterati salute Sakibul Gani for his unbelievable batting performance on first-class debut
Normally, it is seen that the new players are nervous on their debut and do not perform their best. However, Sakibul Gani is totally different. He did not show any nerves and played a classic knock to place his team in a comfortable position.
Fans on Twitter have taken note of the brilliant batting performance by Gani. If he continues in the same vein, he can become a top player in the future. Here are the top Twitter reactions to his knock:
Take a bow 🙌 . Bihari Sakibul Gani scored 341 off 405 with 56 fours & 2 sixes against Mizoram on debut.
Babul Kumar also scored double century.

Sakibul Gani becomes 1st player to score triple hundred on Ranji debut.

Babul and S Gani had 538 (756) partnership.#RanjiTrophy2022 pic.twitter.com/ZKMLCAih6V

— Diwakar¹⁸ (@diwakarkumar47) February 18, 2022
Sakibul Gani 300
Babul kuma6 200#RanjiTrophy #RanjiTrophy2022 pic.twitter.com/WvIkJN9J4K

— Kumar Raj (@Rajkuma20157640) February 18, 2022
22 years old Sakibul Gani Scored Triple Hundred in Ranji trophy 2022 against Mizoram.

•Runs – 341
•Balls – 405
•4s – 56
•6s – 2
•Strike rate – 84.20

What an Innings from a youngsters. This is Outstanding batting.

— CricketMAN2 (@ImTanujSingh) February 18, 2022
Sakibul Gani becomes the first cricketer to score 300 on First-Class debut#RanjiTrophy #RanjiTrophy2022 pic.twitter.com/wAq8dEt2wM

— Cricket Mirror (@cricket_mirror7) February 18, 2022
Sakibul Gani from Bihar became the first player to score a triple hundred on 1st class debut 🔥

— Broken Cricket (@BrokenCricket) February 18, 2022
Double Century for Bihar's Babul Kumar. Damn this partnership 🔥🔥🔥

537 runs partnership so far between Sakibul Gani and Babul Kumar. @bhaleraosarang this might break some record as well. #RanjiTrophy

— Kaushik (@_CricKaushik_) February 18, 2022
Sakibul Gani of Bihar has created a world record v Mizoram. He has the highest individual score on First Class debut. Beats the record of Ajay Rohera of Madhya Pradesh who had scored 267* on FC debut v Hyderabad in the 2018/19 Ranji Trophy #RanjiTrophy2022

— Sarang Bhalerao (@bhaleraosarang) February 18, 2022
Hell of a knock. World record holder. Sakibul Gani goes for 341. Finally Mizoram got the breakthrough.

538 runs partnership between him and Babul Kumar 🥵#RanjiTrophy

— Kaushik (@_CricKaushik_) February 18, 2022
World Record Alert 🚨

Bihar's Sakibul Gani brings up his Triple Century against Mizoram just now. He is the first player in History to score a triple century in a FIRST CLASS Debut.

Last best was 267 from Ajay Rohera of MP in 2018. #RanjiTrophy #CricDomestic

— Kaushik (@_CricKaushik_) February 18, 2022
🔴WORLD RECORD🔴

Bihar's 22 year old Sakibul Gani became the first player to score a triple hundred on 1st class debut.

🔥Gani 341(405 balls, 56 fours & 2 sixes)#RanjiTrophy #RanjiTrophy2022 #CricketTwitter #Cricket #Bihar pic.twitter.com/wh7jxoX0TR

— Indian Domestic Cricket Forum – IDCF (@IndianIdcf) February 18, 2022
WORLD RECORD: Sakibul Gani becomes the first cricketer to score a triple hundred on his First-Class debut. He achieved this feat for Bihar v Mizoram in Kolkata #RanjiTrophy2022

— Sarang Bhalerao (@bhaleraosarang) February 18, 2022
Bihar's Sakibul Gani becomes the first-ever batter to score a triple 💯 on First-Class debut 💪#RanjiTrophy #Bihar pic.twitter.com/Nal8zVboYr

— Sportskeeda (@Sportskeeda) February 18, 2022
Sakibul Gani becomes the first player to score 300 on his first class debut in the Ranji Trophy 😳#RanjiTrophy

— India Fantasy (@india_fantasy) February 18, 2022
History by 22 year old Sakibul Gani in Ranji Trophy for Bihar. He becomes the first ever to score a 300 on First Class debut and he reached that in 387 balls with 50 fours.

— Mufaddal Vohra (@mufaddal_vohra) February 18, 2022