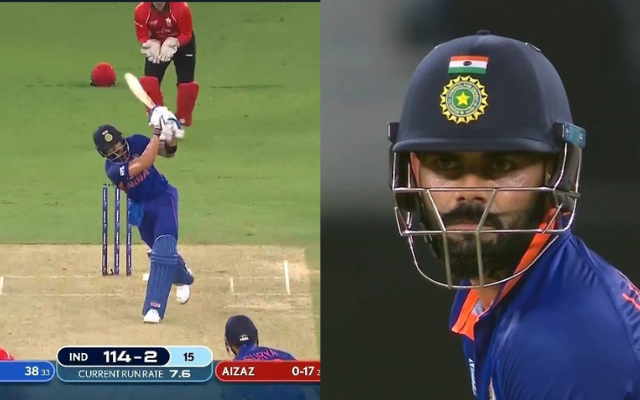 Even though Virat Kohli is not renowned for scoring at a high clip soon after going in the middle in Twenty20 matches, there was a lot of anticipation surrounding his strike rate when he faced Hong Kong. Despite this, he was able to achieve the benchmark of 50 runs, but it took him 40 balls to do it against an average bowling attack.
There had been a lot of speculation about how well Virat Kohli would play in the Asia Cup 2022 after he had taken a sabbatical for a month before the beginning of the competition. In the first game of the competition, which was played against Pakistan, the 33-year-old batsman could not live up to the expectations that were placed on him. He scored 35 runs off of 34 balls, but the team ultimately prevailed. After a further two days, India is now competing against Hong Kong at the same location in Dubai.
Virat Kohli gets a fifty against Hong Kong
Since entering the middle at position No. 3, Kohli has played some magnificent strokes. However, his strike rate was a concern for the Indian fans, and the fact that he did not have much assistance from KL Rahul, who got 36 runs but squandered 39 balls to get them, did not help him. However, Kohli was able to reach fifty, notching his 31st half-century in Twenty20 Internationals by taking 40 balls to get there. And Kohli was well aware that it was not one of his better performances, which is why, upon hitting the milestone, he chose not to celebrate.
In the meantime, owing to Suryakumar Yadav's easy finish, India could finish the batting well. Suryakumar was still not out at the conclusion of the innings with 68 runs scored off only 28 balls. He hit six sixes and as many fours throughout his innings. As India reached their final score of 192/2, Kohli ended his innings with 59 runs scored off of 44 balls.
Twitter Reacts:
Another intentless 50 from 40 balls against mighty Hong kong the greatest statpadder in t20i for a reason 🔥

— ' (@KingdomofRohit) August 31, 2022
Took 40 balls even against these useless players, shameful😂🤣😂🤣

— k (@wrecbk) August 31, 2022
Statpadder 😭😭

— ٰ (@mujxxhid) August 31, 2022
Strike rate😐

— SavageCreature (@SavageCreature) August 31, 2022
We wanted Kohli to score a 50 but not against hongkong 😭

— 💉 (@dtsaae) August 31, 2022
Sky statpadding against pacer and skipping spin

— 133* 𓃵 (@133_NotOut) August 31, 2022
virat kohli will demolish hong kong.. century loading.. pic.twitter.com/Z43WX0V0Pt

— DHABA WALA BABA (@omkararaj) August 31, 2022
Can't we just praise a little for VK and stop taunting him about getting 50 against hkong ha bhai pata hai halwa team h par it's good for our team that he gets his form back coz the WC is damn Near!

— THĘ ČØÑQŮĔŘÖŔ (@nqueror) August 31, 2022
Ur king can only score 50 against weak team like hong kong that to in 40 balls. Is this odi?. Stop calling him king and all. Look at skys inning thats how u play t20.

— Aksman8 (@rangnekaraksh) August 31, 2022
Good innings..? LoL.. KL and VK robbed Pant, DK, and Jaddu

— Indian Cricket Fan (@Indiancric8_fan) August 31, 2022
statpadding Against Farmers HK Well Done KING Kohli 👑❤️

— el 🏴󠁧󠁢󠁥󠁮󠁧󠁿 (@elstxne) August 31, 2022