News
ODI Cricket
Social
Sachin Tendulkar recalls 1993 Hero Cup semifinal where he defended 5 runs for India in the last over
Sachin Tendulkar bowled 3 dot balls in the last over as the opposition South Africa fell 2 runs short of the target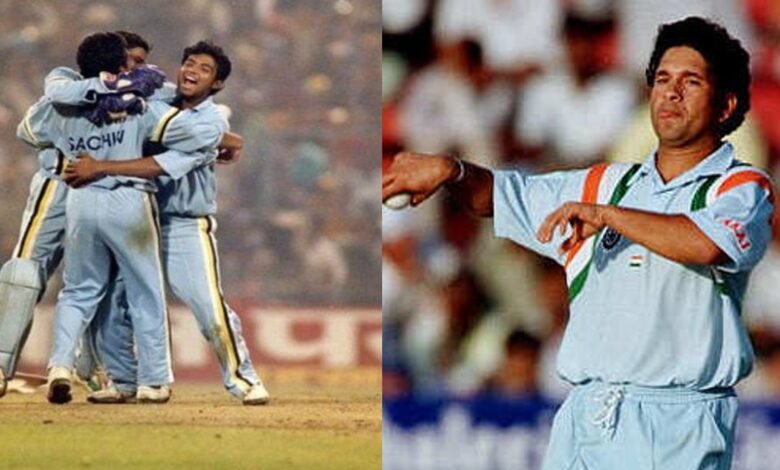 Sachin Tendulkar has recalled the famous hero cup semifinal of 1993 where he defended 5 runs successfully in the last over against South Africa. The game, which was played at Eden Gardens, is one of the most memorable games in the history of Indian ODI cricket.
India batted first and was restricted to just 195 with the captain Mohammed Azharuddin top-scoring with 90. Although in reply, the Indian bowlers chipped in with wickets at regular intervals, the game seemed lost for India with just 6 runs needed off the last over and no specialist bowler available to bowl it.
Recalling the moment on his YouTube channel, Sachin Tendulkar said he went to the captain Azharuddin and told him that he was confident about bowling the last over even though he had not bowled a single over in the game tilll that point.
When Azharuddin gave him the ball, Tendulkar took a little bit of time to warm himself up because it was quite chilly that day in Kolkata and it was not easy landing the ball on the right spot without a bit of warm-up.
However, what helped Tendulkar is the fact that the set batsman Brian McMillan got off strike on the very first ball of the over. The no. 10 batsman Fanie de Villiers wanted to come back for the second run, but McMillan and De Villiers got run out in the process.
Sachin Tendulkar didn't let Allan Donald get off strike easily which put pressure on South Africa
The no. 11 Allan Donald walked in and he found it hard to get off strike as he consumed the next 3 balls. Sachin Tendulkar recalled the chat he had with the wicketkeeper Vijay Yadav when 4 runs were needed off 1 ball. Tendulkar told the keeper he would bowl a yorker and he could stand back rather than stand right up to the stumps as it would help him stop the inside edge if there was any.
As anticipated, it actually turned out to be an inside edge off the last ball which Vijay Yadav stopped and South Africa could just get a single. India won the game by 2 runs to make their way to the final, where they beat West Indies and lifted the trophy.