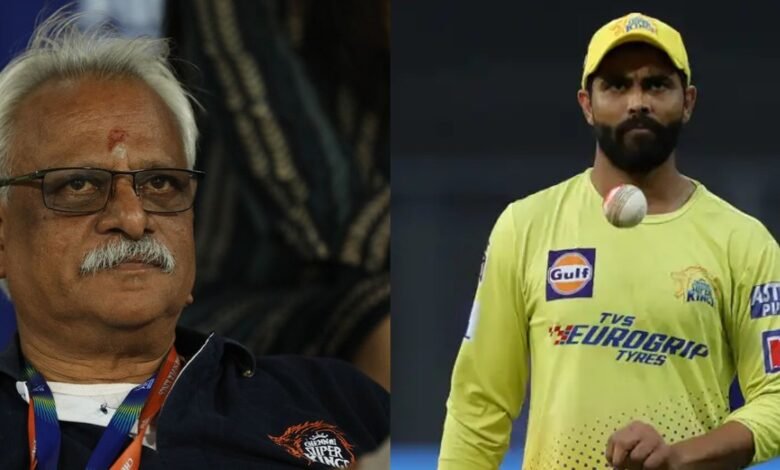 Kasi Viswanathan, the CEO of Chennai Super Kings, has confirmed that Ravindra Jadeja remains in CSK's plans for the future despite the fact that he was removed from CSK captaincy mid-way through the ongoing IPL season and left the team bubble citing rib injury as well.
There were reports of a rift between Ravindra Jadeja and CSK management after CSK unfollowed Jadeja on Instagram. The reports started circulating that Jadeja had been ruled out of IPL 2022 altogether with a "bruised rib".
But, according to CSK CEO, he can't say anything on the social media issue as he doesn't handle the social media side of things of CSK, but from a cricketing standpoint, he can say that Jadeja still remains a part of the CSK set up and will continue to be so in future.
Ravindra Jadeja was given the captaincy of CSK ahead of the ongoing IPL season, but it was later taken away and MS Dhoni was put back at the helm after CSK suffered 6 losses in the first 8 games of the league. It was a decision that was criticized by many, as many thought that Jadeja should, at least, have been given one entire season to prove his captaincy credentials and shouldn't have been sacked mid-way through his first captaincy assignment itself.
Official word from CSK was that Ravindra Jadeja handed over the captaincy voluntarily
CSK management, from their side, however, never communicated that Jadeja had been sacked from captaincy and the official word was that Jadeja himself handed over the captaincy to Dhoni to focus more on his game.
But, the reports later suggested that it was not Jadeja's own decision, and the team management and the think tank of the franchise were involved in the decision. With Jadeja out of the tournament injured now and many reports circulating in the media, this whole saga might keep making news for some time, until a clarification comes from Ravindra Jadeja himself.