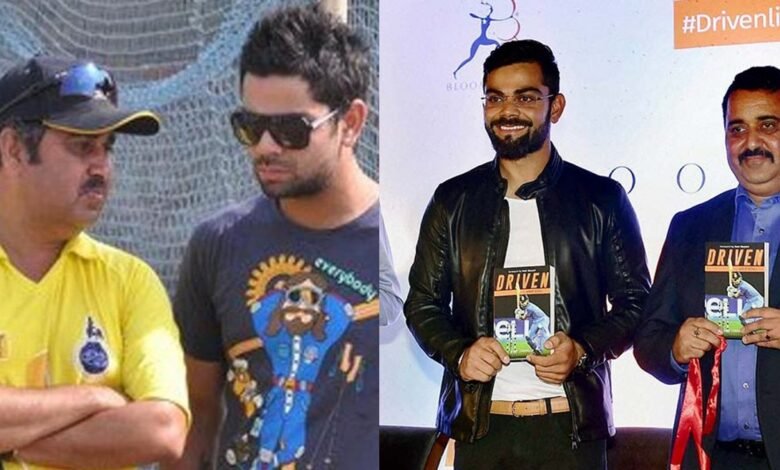 Virat Kohli's childhood coach Rajkumar Sharma revealed on Khelneeti podcast that he has not been able to contact Kohli since his sacking as India's limited over captain, as Kohli's mobile phone is switched off.
Kohli was sacked from India's ODI captaincy through a Twitter post by the BCCI and later it was said that the selection committee was not comfortable with the idea of having two captains in two limited over formats. The board also revealed that Kohli was asked not to resign as the T20I captain, but he resigned, which eventually led to his removal from ODI captaincy too.
Despite it being three days now since the ODI captaincy has been taken away from Kohli, he has not come up with his side of the saga, while the fans have been waiting for it. Kohli has to enter the bubble of team India in Mumbai in a couple of days' time and he is also supposed to address a press conference before flying to South Africa.
It is almost certain that Kohli will be asked his point of view on his sacking in the press conference and he will probably address the issue there, but for him to not have come with an official word yet, it's something that sends out a clear message that the transition of captaincy has been nowhere near as smooth as it should have been.
Not only Kohli, even the newly appointed captain Rohit Sharma has not come with an official word yet, even though one would think that he would have been told by the board well in advance about his appointment. There are even unconfirmed reports that Rohit accepted the T20I captaincy only on the condition of being given the ODI captaincy as well.
Virat Kohli's childhood coach is a Dronacharya award winner
Now with Virat Kohli's childhood coach revealing that Kohli's phone is switched off, it only indicates more chaos. However, the picture should be clearer by this weekend when Kohli joins India's group of players three days before departure to South Africa.
Virat Kohli's childhood coach is a Dronacharya award winner and is someone whom Kohli has been in regular touch with, even after his international career took off. Kohli's coach had supported Kohli's idea of leaving the T20I captaincy earlier this year.