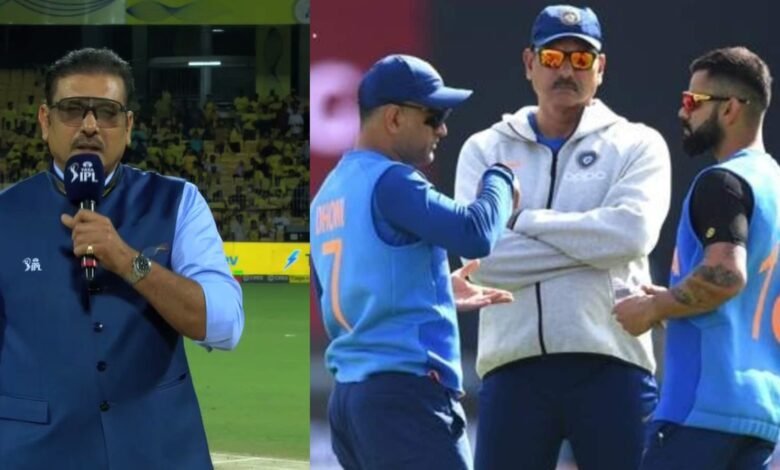 Virat Kohli is best-known for his aggressive nature on the field. He is such an animated character where he displays a truckload of emotions on the field. Moreover, he is so passionate about the game.
He has often said in interviews that he would always give 120% on the field. Besides his playing style, we have often seen him expressing his emotions, aggressiveness and competitiveness during the games.
This is what made him one of the most exciting players to watch in the sport. Currently, he is the best player in the world across formats. The all-format player currently has 75 international centuries.
On the other hand, MS Dhoni was quite the opposite to Virat Kohli's personality. MS Dhoni was known for his calm and composed attitude. He is popularly known as "Captain Cool".
"MS Dhoni's coolness or Virat Kohli's aggression?" – Ravi Shastri gives his honest answer
Meanwhile, the former Indian head coach, Ravi Shastri was asked a tricky question featuring MS Dhoni and Virat Kohli. He was asked to pick either MS Dhoni's coolness or Virat Kohli's aggression.
Ravi Shastri know both these players very well during his stint as head coach. To that tricky question, Ravi Shastri surprised the fans by picking both. He said, "I want MS' coolness and Kohli's aggression, both!".
MS Dhoni and Virat Kohli are currently spicing it up for their respective IPL teams in the sixteenth edition of the Indian Premier League. CSK and RCB are yet to qualify for the playoffs and as things stand, Gujarat Titans were the first and only team to make it to the playoffs.
On the other hand, the playoffs race is just getting more and more competitive. It remains to be seen which other three teams will make it to the playoffs. CSK will play their next game against DC on May 10 whereas RCB will play their home game against GT on May 21.
Question – which you'll pick, MS Dhoni's coolness or Virat Kohli's aggression?

Ravi Shastri – I want MS' coolness and Kohli's aggression, both! pic.twitter.com/rhmVS41djC

— Mufaddal Vohra (@mufaddal_vohra) May 16, 2023