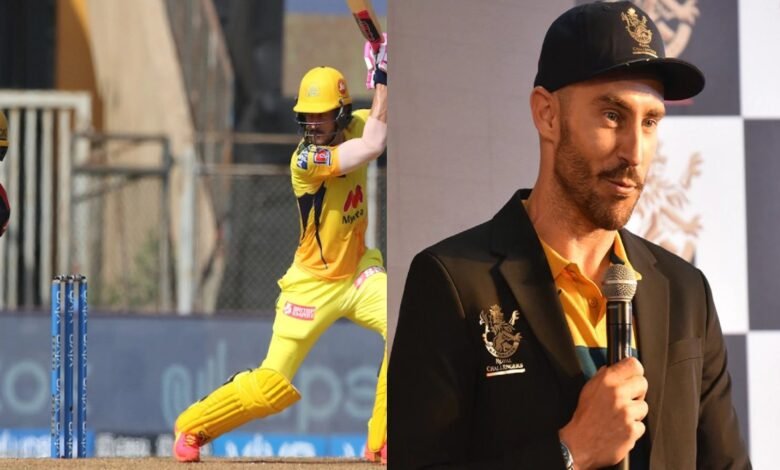 Royal Challengers Bangalore have named Faf du Plessis as their new captain. Hence, all the teams now have a captain and the focus shifts to the season opener of March 26th. Meanwhile, the Chennai Super Kings fans reacted to the appointment of their former player Faf as RCB's new skipper. In this article, we take a look at how fans of CSK reacted to Faf getting appointed as RCB captain for IPL 2022.
RCB names the new skipper
In the UAE leg of IPL 2021, Virat Kohli had announced that he would not captain the franchise from IPL 2022. From then on, there has been constant speculation about who will replace Virat. After the IPL 2022 Mega-Auctions ended, the names that emerged included Faf du Plessis and Dinesh Karthik apart from Glenn Maxwell. Eventually, it was the South African who was picked for the role.
Faf du Plessis has led South Africa in the past apart from a host of other T20 franchises. While he does bring experience, overseas captains have always been risky in IPL. However, from RCB's point of view, Faf seems the best option. Since the team has some strong characters like Virat Kohli and Glenn Maxwell, the South African's stature will work well as the skipper of the franchise.
CSK fans react to Faf getting appointed as RCB captain for IPL 2022
Meanwhile, the fans of Chennai Super Kings have reacted to the appointment of Faf as the new RCB captain. As it is well aware, CSK fans like Faf du Plessis and were disappointed when the franchise could not re-hire the player. They have been showering their love for him on social media since then. Now, Faf has gone on to become the captain of the RCB franchise. Hence, there were some interesting reactions on social media. We take a look at a few in the below section:
Faf du Plessis named RCB captain. After toss against CSK, Faf might walk back to Chennai dressing room with Dhoni. 😭

— Silly Point (@FarziCricketer) March 12, 2022
CSK undercover agent Faf is now RCB captain. 4 points easy now

— Rishabh Srivastava (@AskRishabh) March 12, 2022
Congratulations @faf1307..
We're happy for you. And ofc bit sad that you are not part of CSK Team anymore. RCB you got the best guy who knows how to win trophies.😉

Do well skipper, you've our Yellove and support @faf1307 💛❤️#Rcbcaptain || #RCBUnbox #FafDuPlessis || #RCB pic.twitter.com/H5PbViLhtH

— ∆ S H U (@Aye_Luce) March 12, 2022
#CSK𓃬 fans after watching @faf1307 as new captain of #RCB @ChennaiIPL that still hurt us no Faf , No Raina 😔😔#IPL pic.twitter.com/ZNzkHaAVQ3

— 🎗ItsŔÃJ🎗 (@itsRaj57) March 12, 2022
Faf with CSK players after the match
cant wait😅#csk #Rcbcaptain #PlayBold pic.twitter.com/ajLqrrY7jT

— Sarthak_ (@Sarthak2333) March 12, 2022
Finally, RCB made CSK player as their new captain to win atleast 1 IPL title 😀. Btw all the very best Champ @faf1307 💛♥️ one of the best to lead this team.

— Learner (@MakingMistake) March 13, 2022
Faf du Plessis when CSK lifts the next trophy. pic.twitter.com/SIf3FY6tyY

— Heisenberg ☢ (@internetumpire) March 12, 2022
Congratulations @faf1307!!
Happy to see you lead RCB but ofcourse gutted that you are not part of CSK anymore. Send you lots of #Yellove from our team.
Do well skip, you have our Yellove and support @faf1307 💛#Rcbcaptain || #RCBUnbox #FafDuPlessis || #RCB #WhistlePodu

— divyang shroff (@divyang_7) March 12, 2022