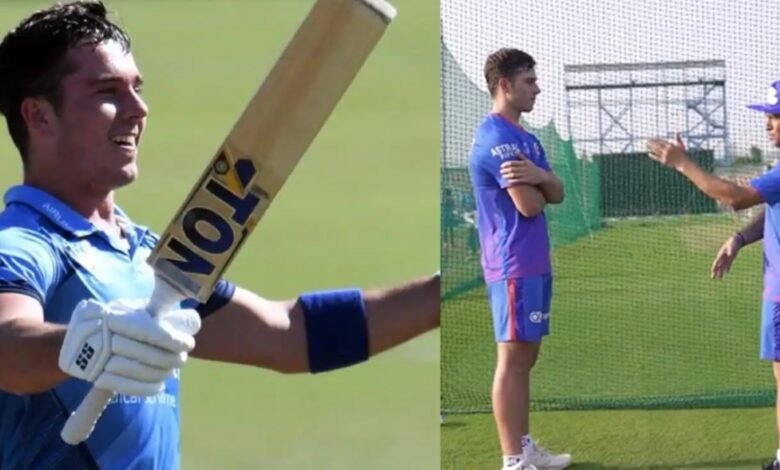 The emerging South African batsman Dewald Brevis, whose batting style resembles that of AB de Villiers, has said that he has benefitted a lot by spending time with Sachin Tendulkar while he was playing for Mumbai Indians in the Indian Premier League (IPL) earlier this year.
Dewald Brevis is yet to make his debut in international cricket for South Africa, but after catching everyone's eye in the U19 World Cup, he already showed in this year's IPL that he belongs to the senior level of the game as well. Because of the prospects that he holds for the future, Dewald Brevis has now also been signed by the MI group for their South African franchise MI Capetown.
Brevis was in the news a couple of days ago again when he smashed a century in South Africa's domestic T20 tournament in just 30 oddballs and then went on to score 150 in 50 oddballs to guide his team to a huge total.
Dewald Brevis has got a clean swing of the bat
What makes Dewald Brevis special is the fact that he doesn't have to lose his shape while he is looking to go for the big shots. His head remains still over the ball and the swing of the bat is as clean as anyone in the world, the two qualities which made De Villiers special as well.
Spending time with Sachin Tendulkar and other stalwarts in the MI dressing room, like Mahela Jayawardene, must have helped Brevis with his temperament too, as he is just 19 years of age and is far from that stage of his career where he can be called a finished product.
As Brevis praised Tendulkar in his recent interview with ESPNcricinfo, it drew a lot of responses from Indian fans on Twitter. Here are the Twitter reactions after Brevis made the statement that he has benefitted by talking to Tendulkar –
Learning from God will always help u 💪🏻 mi blood

— Sreerag Rajesh (@RajeshSreerag) November 3, 2022
God of cricket for a reason

— 🍍 Frankenstein (@ONFrankenstein) November 3, 2022
Oka Maxwell
Oka brevis
Sachin students 😌 https://t.co/wzV7LOX9d0

— Civil×Rage (@BLOODLINE45) November 3, 2022
Who else could influence hum more? https://t.co/9Ds6QSxcS0

— Priyansu (From 🏠) (@Pri_45_Yansu) November 3, 2022
Credits time. https://t.co/o5ffglEXtN

— வாத்தி (@narengiri2) November 3, 2022
Should spend time with Dhoni to become best in the world

— RM&CSK FAN ACCOUNT👾 (@CSkian000) November 3, 2022
Dewald Brevis said- I will choose batting with Master Blaster #Sachin over batting with #ViratKohli𓃵 & #ABD (To ESPNcricinfo).

— ABHIJEET DUBEY (@dubeyabhi2) November 3, 2022