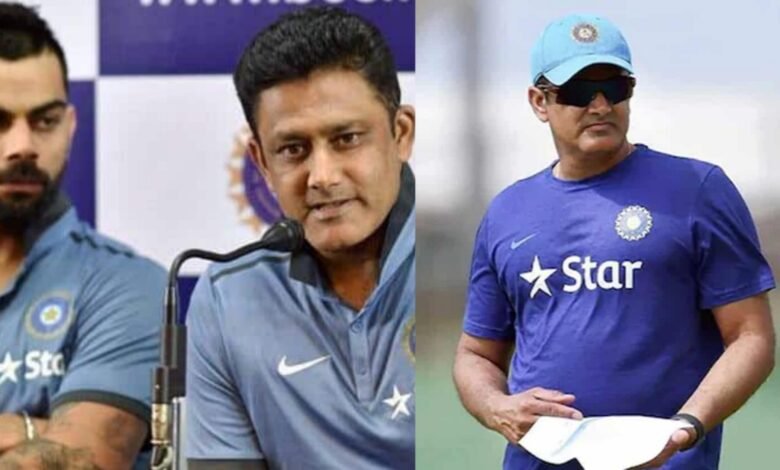 Former Committee of Administrators member Vinod Rai recently revealed some lesser-known details of the controversy involving former Indian head coach Anil Kumble and former captain Virat Kohli. Almost every member of the Indian cricket universe would know how Kumble left the position of the head coach.
As per reports, Virat Kohli was unhappy with the team management. Soon after, Ravi Shastri replaced Kumble as the head coach and had a lengthy tenure at the helm.
In his book 'Not Just A Night Watchman: My Innings With BCCI" published by Rupa, Vinod Rai wrote in detail about what exactly happened. He recalled that Virat Kohli informed him about Anil Kumble's way of working and how it impacted the youngsters of the team.
"In my conversations with the captain and team management, it was conveyed that Kumble was too much of a disciplinarian and hence the team members were not too happy with him. I had spoken to Virat Kohli on the issue and he did mention that the younger members of the team felt intimidated by the way he worked with them," wrote Rai. 
As per Vinod Rai, Anil Kumble was unhappy with the way things panned out
Further writing about that episode in Indian cricket, Vinod Rai mentioned that the Cricket Advisory Committee, featuring Sachin Tendulkar, Sourav Ganguly and VVS Laxman, had long conversations with both Anil Kumble and Virat Kohli.
While the CAC recommended the reappointment of Kumble as the coach, eventually Ravi Shastri was named the head coach. As per Rai, Kumble was unhappy over the fact that the management gave so much importance to the captain.
Kumble felt he was mistreated because it is the coach's duty to bring discipline to the team. Rai explained to Kumble that since his contract was more 1 year only and had no extension clause, the administrators had to follow th eprocess.