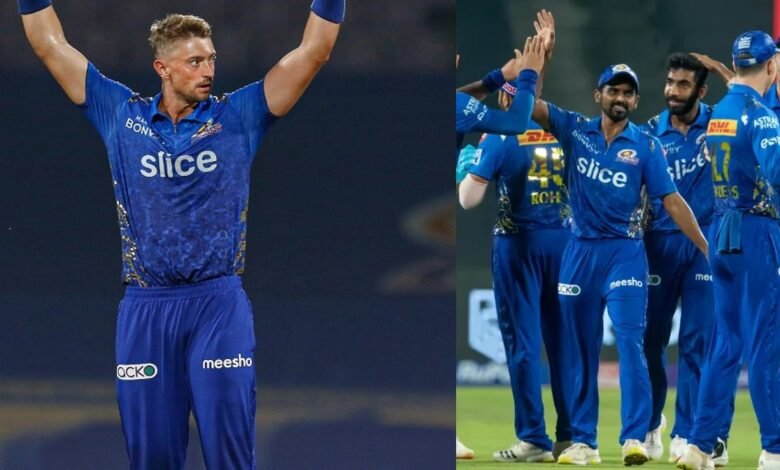 Mumbai Indians are the most successful team in the history of the IPL as they have won the IPL title 5 times, which is more than any other IPL franchise and one of the main reasons behind Mumbai's consistent success in the biggest T20 competition in the world is their recruitment.
Mumbai Indians, somehow, always seem to know when to trade their players and who to get into their squad at the right time. Since they are so good at judging their playing resources, they are an immensely successful team and have been over a period of time.
Here are the 3 players Mumbai Indians might release during the IPL trading window –
Daniel Sams
Daniel Sams was actually brought into the Mumbai set-up by the process of trading itself, as they had traded the Australian allrounder from one of their rivals Royal Challengers Bangalore (RCB).
Although Sams put on a couple of reasonable performances and bowled a match-winning last over in one of the games against IPL 2022 champions Gujarat Titans, his performances overall have not been good enough to justify a spot in a side like Mumbai Indians.
Jaydev Unadkat
Jaydev Unadkat has played for various teams in the IPL and although his success rate is not that great either upfront or towards the back end of the innings, the coaches and the captains have always shown trust in his variations.
In the last IPL mega auction, when Unadkat was overlooked by his previous IPL team Rajasthan Royals, Mumbai Indians bought him to add some depth to their domestic bowling stocks.
Unadkat played a few games for Mumbai and bowled some crucial overs too, but there was not quite an uprise in his performances, as compared to the previous seasons and he ended up being expensive most of the time.
Tymal Mills
Tymal Mills got injured mid-way through the last IPL season and Mumbai replaced him with the young South African batsman Tristan Stubbs whom they had scouted before anyone else in the South African domestic circuit.
Now the stocks of Stubbs in the last one year have risen to an extent that Mumbai will certainly not let him go and in that case, the 5-time IPL champions might want to trade off Tymal Mills, who was a bit off color for them in the last IPL.