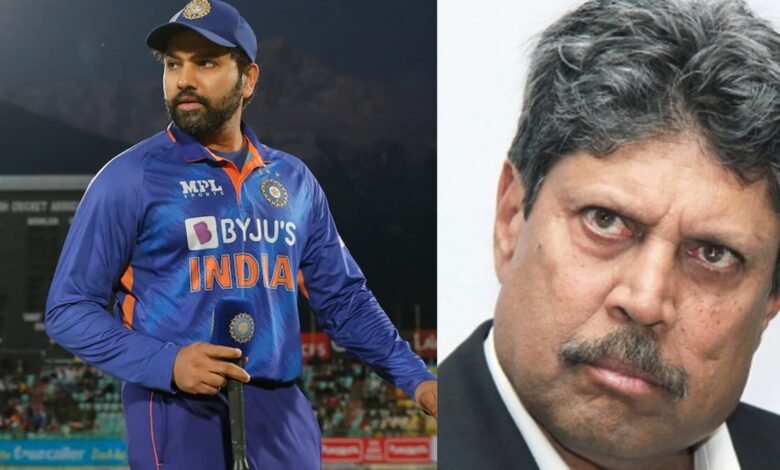 Rohit Sharma, the captain of the Indian cricket team, has not been in the greatest of form as of late, and former cricketer Kapil Dev has questioned the ability of the right-hander to live up to the reputation he has built for himself. In the Indian Premier League 2022, Rohit led the Mumbai Indians, but despite starting all 14 games at the top of the order, he was only able to score 268 runs at an average of 19.14 and a strike rate of 120.17, and he did not have a single innings in which he reached the fifty-run mark.
In the most recent Twenty20 International series against South Africa, Rohit was again held out of action, although he is expected to play in the lone Test match against England. The management was particularly concerned about his form leading up to the test, as he only got 25 runs in the first innings of the four-day practice game against Leicestershire. When he visited England the previous time, he had an outstanding performance. It does not seem that this is the case anymore.
The question of what is going on can only be answered by Rohit Sharma: Kapil Dev
The previous captain of the team that won the World Cup said that it was impossible to determine the reason why the players were being rested. He also believed that doubts were going to be made about any great player who went without scoring for an extended period. He pondered if the quantity of cricket played had finally reached the point where it was too much, and he believed that only Rohit could address the worries about his form.
"It is difficult to determine who has been given a day off or who has requested a day off today. This information will only be known to the selectors. There is no denying the fact that the player (Rohit) is very talented. It doesn't matter whether you're Gary Sobers, Don Bradman, Virat Kohli, Sachin Tendulkar, Sunil Gavaskar, or Viv Richards: If you don't make a fifty in 14 matches, people are going to start asking questions. The question of what is taking place can only be answered by Rohit. Is he becoming sick of it (cricket) or does it take up too much of his time?" Kapil stated on Uncut.
He emphasized the value of enjoying the game, regardless of whether Kohli or Rohit was playing, and he said that the chances may start to fall if the bad form persists for an extended period. He continued by saying that it is possible that they would never play for the team again if they are benched, and he stated that he does not get the rationale of giving them a break when they are doing poorly.
"Players like Rohit and Virat (Kohli) should try to have fun when they're competing. How they are feeling is of utmost significance (concerning their performances). You need to make runs (to get back in form). You can only go so far by relying solely on your reputation. At some point in the future, there won't be any more chances. How many opportunities do you need after playing in 14 games? Can't make sense of the decision to rest them. If they are benched, what other opportunities will they have to play? It's quite tough to get a feel for how they play right now," he went on to say.