cricket
News
"Humble pie for the guy who professed both India and Pakistan will be out," Twitter reacts as Shoaib Akhtar makes U-turn and says he wants India Vs Pakistan final in T20 World Cup
Shoaib Akhtar had earlier predicted that Pakistan would be out of T20 World Cup before semi-final round and India will be out in the semi-final round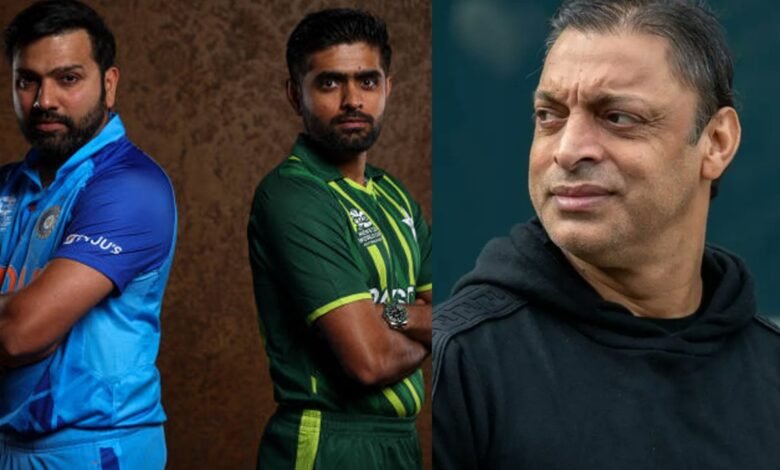 The former Pakistan fast bowler Shoaib Akhtar has taken a U-turn after both India and Pakistan qualified for the semi-final round of the ongoing T20 World Cup. The veteran has now said that he wants these two teams in the final of the tournament.
Shoaib Akhtar, before the start of the T20 World Cup, had said that Pakistan would not qualify for the semi-final round and after Pakistan lost back-to-back games at the start of their campaign, Shoaib repeated himself in another video saying that he had already predicted it.
Shoaib then went ahead in that video saying that India might qualify for the semis, but that's the last stage they would be able to get to and they would return home a week after Pakistan returns. However, now in a new video, Shoaib Akhtar said something completely opposite and said that he is looking forward to see an India Vs Pakistan final.
Shoaib Akhtar thinks ICC and broadcasters will be very happy if India and Pakistan reach the final
Shoaib admitted that Pakistan proved him wrong by managing to qualify to top 4 and he insisted if both Pakistan and India get to the final, that will make the ICC and broadcasters very, very happy as that final will be a huge hit among the audience.
When India had played Pakistan at MCG in the group stage, more than 90 thousand people had watched the game at the stadium, but majority of them were Indian fans and when India returned to MCG to play against Zimbabwe yesterday, 82 thousand people were in the stands again.
If India reaches the final, the final will be a huge hit for ICC anyway because of India's huge fanbase, but an India Vs Pakistan final will be an even bigger hit and Shoaib wants both these teams to clash in the grand finale of the mega event, which will take place in Melbourne next Sunday.
People, however, came up with funny reactions on twitter as Shoaib made a complete U-turn on his earlier statement –
Ohh man I hate this guy. He predicted pak will exit from group stage and india will loose semifinals. Now he is rooting saying india vs pak final https://t.co/x4kN37h5Jy

— Akshay (@viratkohliofc) November 7, 2022
South Africa can never forget this defeat to be the cheapest of the WC so far ! https://t.co/X0QwiJpoZ4

— HARISH (@ChoudhriHarish) November 6, 2022
Same dude who professed that both Pak and India are going home soon!! Humble pie 😅 https://t.co/IJE3JtJCB6

— Nakuul Mehta (@NakuulMehta) November 6, 2022
Just like Pakistan always lived upto the "C" Word. https://t.co/VeQMKR4nzs

— Rajat jain (@Rajatjain_3107) November 6, 2022
Kiwi ko bohot pareshan kiya tha last year … dekhana ab kya hoga https://t.co/d6PR0bauwi

— Rushikesh (@Rushike26050170) November 6, 2022
YOU SIR ARE THE PRIME EXAMPLE OF A HYPOCRITE. https://t.co/F5NE1M3mQD

— Sana 🕊 (@pakhairrr) November 6, 2022
'C ' word I mean seriously ?yaar log itne bade celebrity ho kar itni choti baatein kaise kr lete h ? You could have appreciated Netherlands instead or just be grateful for your team 🤦🏻‍♀️ https://t.co/AGt2lw35Ub

— SHIKSHA JOSHI (@khali_pili_) November 6, 2022
Saying a person whose team has lost to zim…you are the biggest chokers in this cricket…choked in home choked away https://t.co/zyTr0W45FT

— Ayush Srivastava (@sriman_ayush) November 6, 2022