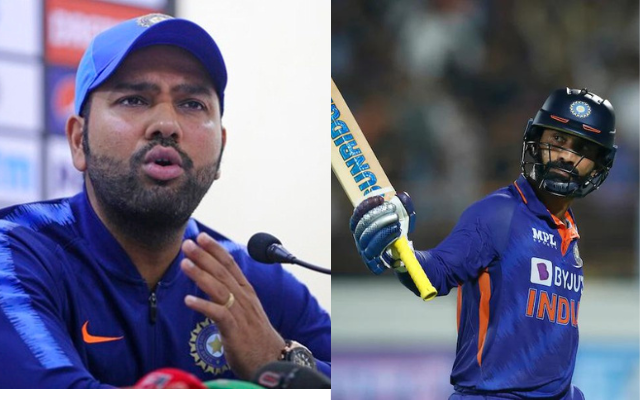 Dinesh Karthik, a veteran batsman, has said that Team India is capable of fielding two or even three teams due to the large number of choices that are now accessible. The 37-year-old is one of the numerous players who, in recent years, have been granted the chance to compete for India's white-ball teams.
On the strength of his outstanding performance in the IPL 2022, DK was invited back into the T20I team. On the other hand, several young players, such as Arshdeep Singh, Deepak Hooda, Avesh Khan, and Umran Malik, amongst others, have recently made their debuts on the international stage.
There are two reasons why these up-and-coming stars have possibilities. The first is that India has been taking it easy on its star players as of late; the second is that India's think tank wants to test out some new players in preparation for the Twenty20 World Cup.
What did Dinesh Karthik say?
A Twenty20 International series consisting of five matches is presently being played between India and West Indies. Karthik discussed the fierce fight for positions.
He said:  "Right now, within the Indian team, we can send out two teams, and there's a possibility that we may even field three teams, given the number of players that we have available. I don't believe there are too many nations that can make that claim."
Karthik said that the 15 players who were chosen would have a significant amount of burden on their shoulders, and he acknowledged that several players may be unfortunate to be left out of the T20 World Cup. 
He said: "Players who are part of the 15 (for the T20 World Cup) should recognise how essential and how wonderful it is to be a part of this squad, as well as how happy we should be to be representing our nation on a world stage."
India has been successful in bilateral Twenty20 internationals, but they have been unable to reproduce that success in World Cup competition. When the seasoned keeper-batter was asked what they needed to do to break the jinx, he responded as follows:
"There is not a single factor that will decide it. You have a lot of tasks that need to be completed. The procedure is being carried out appropriately concerning batting, the intent, bowling, and execution. When competing in events involving several nations, a certain degree of good fortune is unavoidable."
At the last Twenty20 World Cup, which was held in the UAE, India was not able to go beyond the quarterfinals. They suffered defeat in both of their first matches, one to Pakistan and the other to New Zealand, which virtually ended their chances of winning the ICC competition.