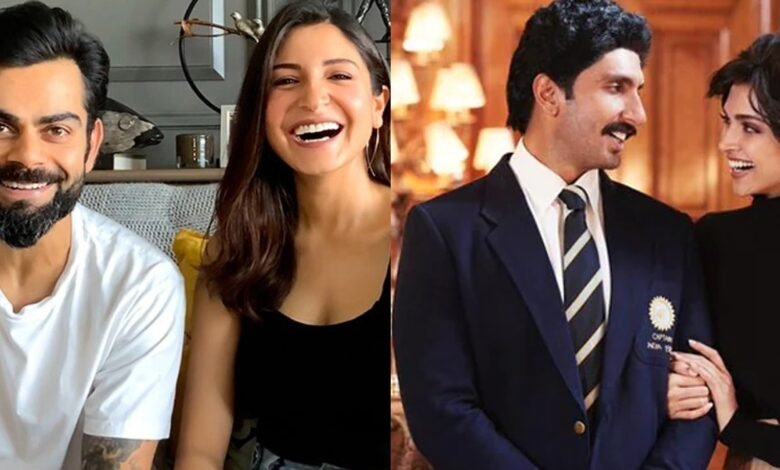 The Indian test captain Virat Kohli and his wife Anushka Sharma, who has been a successful Bollywood actress herself, have reacted to the movie "83" and have congratulated the entire cast and crew for the bumper opening of the movie on the box office.
The movie is based on India's first-ever triumph in the ODI World Cup of 1983, where they had beaten the heavyweights of the tournament and two-time World Champions West Indies in the final to create history at Lord's. It was a triumph that changed the landscape of the game in India.
Kapil Dev, who was the captain of India during the 1983 World Cup, is the lead character of the movie and his role has been played by arguably the most charismatic Bollywood actor of the modern age, Ranveer Singh, who has done a fabulous job and has done complete justice to a humongous role.
83 was a much-anticipated movie and got a massive turnout on opening day
83 was a movie that was much anticipated for a long time and as it hit the big screen yesterday, people turned up in the theatres in big numbers, despite the COVID restrictions in a few cities.
It was not just an opportunity for the old generation to relive the iconic triumph one more time, it was also an opportunity for the modern-day Indian cricket fans to know the entire story and the lead up to India's first-ever World Cup glory.
Virat Kohli, who himself won a World Cup with the Indian team in 2011 and knows the feeling of accomplishing the biggest feat in the game, wrote on Twitter earlier today that he couldn't have experienced India's journey in the 1983 World Cup in a better way than it has been brought onto the silver screen by the actors and the director of the movie "83".
Couldn't have relived the most iconic moment of Indian cricket history in a better manner. A fantastically made movie which immerses you in the events and the emotion of the world cup in 1983. Splendid performances as well.

— Virat Kohli (@imVkohli) December 25, 2021
Heaping praise on Ranveer Singh and Kabir Khan who has directed the movie, Virat Kohli wrote that Ranveer Singh's acting in the movie was "different level". Anushka Sharma also praised Ranveer and Deepika Padukone, who is the leading actress in the movie and has played the character of Kapil Dev's wife.
Not a single false note from you in any frame, just sheer brilliance on your part.
Loved all performances equally! Well played team 83 👏 @deepikapadukone @RelianceEnt

— Anushka Sharma (@AnushkaSharma) December 25, 2021