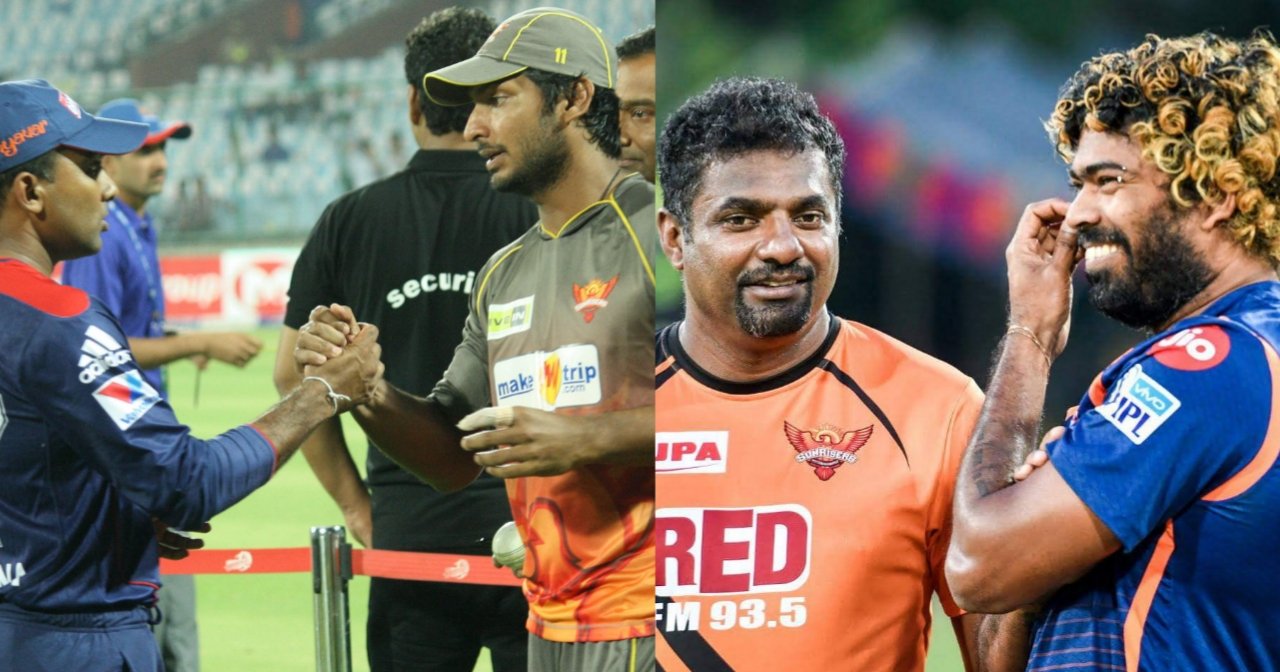 Sri Lankan players used to be a vital part of the Indian Premier League in its early years. But over the years, they have faded from the grandest T20 league in the world. It has gone to such an extent that no Sri Lankan players are part of the 14th edition of the Indian Premier League. So, let's rewind to when Sri Lankan players were a major part of this legendary league and make an all-time IPL XI of Sri Lankan players.
All-time IPL XI of Sri Lankan players:
Openers:
There have been only two Sri Lankan openers to play a fair share of matches to make it to the all-time IPL XI of Sri Lankan players. These are also two of the best openers to open for Sri Lanka in the T20 Cricket ever.
The first opener to make it to this all-time IPL XI of Sri Lankan players is none other than Sanath Jayasuriya. Jayasuriya was a part of IPL during its early years. He played in the 2008, 2009, and 2010 IPL seasons. During these three years, he played a total of 30 matches for Mumbai Indians.
Jayasuriya persisted with his fearless batting style throughout his IPL career. Due to this, he managed to maintain a career strike rate of over 145 in IPL. He even has a 45 ball IPL century in his name which vouch for the destruction Jayasuriya causes to the opposition. That's why he will be the perfect addition to this XI to go all out in the powerplay.
Now, as contradicting playing styles make a good pair, the second opener should be a sensible batter who could play anchor. And who could be better than Tillakaratne Dilshan for this job? Dilshan takes his time to settle in and can accelerate at later stages of the game. His "Dil Scoop" will also come in handy against those block hole yorkers. Pairing Dilshan with Jayasuriya will also provide the left-right combination at the top. Apart from batting, Dilshan can also act as a right-arm off-break bowling option.
Middle Order:
The middle order of this all-time IPL XI of Sri Lankan players consists of two of the greatest Sri Lankan batters. It will be an insult to their legendary careers if the pair of Kumar Sangakkara and Mahela Jayawardene are left out of this XI.
Kumar Sangakkara is the best fit for the number three position in this XI. He has the experience of playing 71 IPL matches. In these 71 outings, Sangakkara amassed 1687 IPL runs with ten half-centuries. Apart from his batting, Sangakkara has captained three IPL sides. He is also the only proper Sri Lankan wicket-keeper to make an impact in the history of the tournament. That's why it would be a waste of his talents to hand the gloves and captainship to anyone else.
After Sangakkara, Mahela Jayawardene is the most qualified to be a middle-order batter. He is also the most experienced batter among these players in terms of playing in IPL. Jayawardene has appeared in 80 IPL matches. He has stacked 1802 runs in these appearances with 10 half-centuries and a century. That's why he rightfully deserves his place as the number four of this XI.
All-Rounders:
Angelo Mathews comes in at number five in this XI. As a number five, his role can switch between an anchor and a death hitter, which he can naturally do. Mathews can also come in and bowl a few middle overs as a medium pacer if needed. He has a decent career economy of 8.18 and 27 IPL wickets in his name, which proves his ability as an all-rounder.
The second name that pops up among Sri Lankan all-rounders to make an impact in IPL is that of Thisara Perera. He has a career strike rate of 137.45 in IPL, which confirms his ability to finish games as a number six. Perera also has 31 IPL wickets from 37 matches and a decent economy rate, which makes him another medium pace bowling option.
In a T20 game, you need batting depth as well as more bowling options. This can be done by adding more all-rounders to your squad. So as a third all-rounder Farveez Maharoof can increase the batting depth as well as add to the number of bowling options in this XI. Maharoof has a bowling average of 19.26 and an economy rate of just 7.43 in IPL, proving his T20 bowling expertise. He can also whack a few out of the park if needed to finish games.
The more all-rounders, the merrier is the motto of T20 games. And if one of them is a legend like Chaminda Vaas, then it's a cherry on top of the cake. As the fourth all-rounder in this XI, Vaas's inclusion increases the batting depth of this XI till number eight. Vaas also used to be a top-notch bowler. His IPL bowling average of 19.72 and economy of 7.55 are evidence of it.
Bowlers:
With so many pacers and a couple of part-time spinners, this XI requires a world-class spinner on the Indian pitches. And who would be better than Muttiah Muralitharan himself? The highest wicket-taker in International Cricket also has as many as 63 IPL wickets in his bag. But what makes him special is a career economy rate of just 6.67 from 66 IPL matches. An economy rate that low, in a format like T20 is out of this world and deserves appreciation.
However, you cannot bowl a spinner at death on Indian pitches. For that, you need a death specialist like Lasith Malinga. When it comes to IPL, Malinga is more experienced than everyone on this XI. He has played 122 IPL matches and still maintained a bowling average of 19.8 and an economy rate of 7.14. Not to forget his 170 IPL wickets, some of which are of the best in the business.
The world has witnessed Malinga's death bowling for so many years now, and it requires no introduction. His accurate yorkers delivered with a low sidearm action are one of the toughest deliveries to send out of the Park, even for the most innovative batters in the world. So there is no better Sri Lankan bowler than Malinga to be on this XI.
Dilhara Fernando is the final addition to this all-time IPL XI of Sri Lankan players. Fernando had played just 10 IPL matches in his career. But in just ten appearances, he managed to take 17 wickets. He maintained a bowling average of 17.52 throughout his ten appearances and bowled with an economy rate of just 7.64.
With the inclusion of Dilhara Fernando, this all-time IPL XI of Sri Lankan players wraps up with nine bowling options and a batting depth up to number eight.
Read also – All-time XI of English players in the IPL