Feature
6 Strongest Indian cricketers with six-pack abs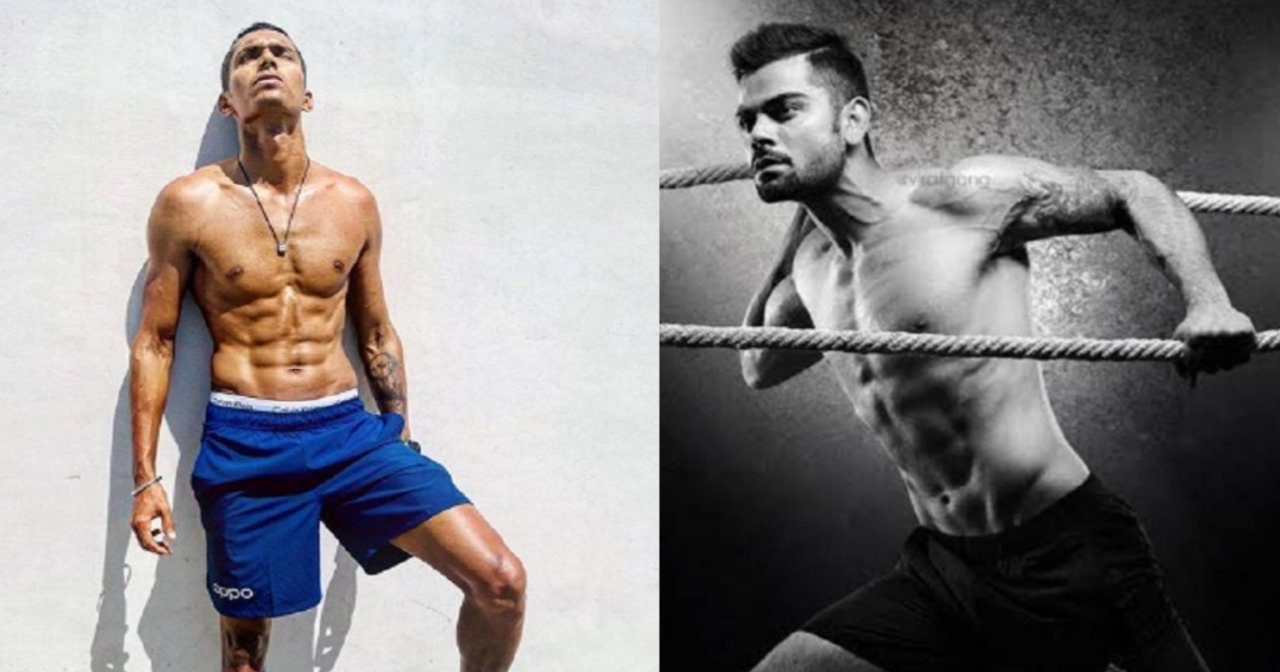 Cricket is not just about delivering a ball or hitting it. It requires the players to be at their best in terms of fitness to succeed in this game. With matches lasting up to an entire day or five in the case of test cricket, you can't just rely on just strength to go on. Similarly, stamina alone won't help any player to bowl fast or clear the ropes. So, a cricketer must be at the peak of his physicality to ace in all areas of this game. Luckily India has plenty of cricketers with six-pack abs and a toned physique to tackle every physical challenge of this game. Let's look at six of these strongest Indian cricketers with six-pack abs.
Strongest Indian cricketers with six-pack abs:
#1 Virat Kohli:
The Indian skipper is one of the fittest cricketers in the entire world. Virat Kohli has set the standards for fitness in the Indian Cricket Team. Since his debut as the captain of the Indian side, he has made sure to make fitness a priority in Indian Cricket. Kohli has also influenced several other cricketers, including some of the leading cricketers, to work hard on their fitness.
Virat Kohli's fitness has been evident in his body language and athleticism on the field. Be it batting for hours, running between the wickets, or athletic fielding, Virat does it all without breaking much sweat. Kohli often shares pictures of his toned physique and workout sessions on his social media accounts, setting fitness goals for many.
#2 Hardik Pandya:
Hardik Pandya is one of the most athletic cricketers in the Indian Cricket Team. He is one of those players who likes to give his best in every dimension of the game. Whether it be running between wickets, bowling, or a tough catch, Hardik doesn't shy away from going to the extremities of his physicality.
However, such athleticism and the power to muscle those big sixes does not come naturally to him. Like Kohli, he is also very dedicated to being at his physical best. Hardik also likes to flaunt his toned six-pack abs and often shares his workout posts on his social media.
#3 Navdeep Saini:
Navdeep Saini is known for having one of the best physiques in the Indian Cricket Team. Saini has featured in various photoshoots flaunting his six-pack abs. He often shares pictures of his toned body on his Instagram account. Saini likes to focus on his diet and has worked hard on his fitness to deliver those speeding deliveries and sharp bouncers, which are his strengths.
#4 Deepak Chahar:
Deepak Chahar is another Indian Cricketer who loves to be in good shape. His physique is a balance of stamina and strength which is vital for being a good pace bowler. Chahar is extremely dedicated to his workout routine as those six-pack abs of his haven't appeared overnight. He has often shared his workout pictures and shirtless photoshoots on his Instagram account, setting fitness goals.
#5 Manish Pandey:
Manish Pandey is another example of pure athleticism like Hardik Pandya. Pandey doesn't post many pictures showing his physique or workouts, but he has a toned body like other cricketers on this list with six-pack abs. Manish Pandey's fitness is evident from his athletic fielding and hitting abilities. He is one of the best fielders in team India and has often displayed exceptional athleticism while playing for team India.
#6 Kedar Jadhav:
It is not easy to stand and deliver sixes off back-foot. For that, you need a physique like Kedar Jadhav. Jadhav incorporates strength training in his workout to hone his ability to hit huge sixes. But that doesn't mean he doesn't work on his cardiovascular strength. Many of his teammates have hailed him to have the strongest physique among Indian cricketers. Along with his big arms, Kedar also has six-pack abs and toned legs to make him athletic as well.
Read also: Shikhar Dhawan and Jaydev Unadkat joins India's fight against covid
Read also: Five best test innings in a losing cause