Feature
6 batsmen with the highest ODI score in a losing cause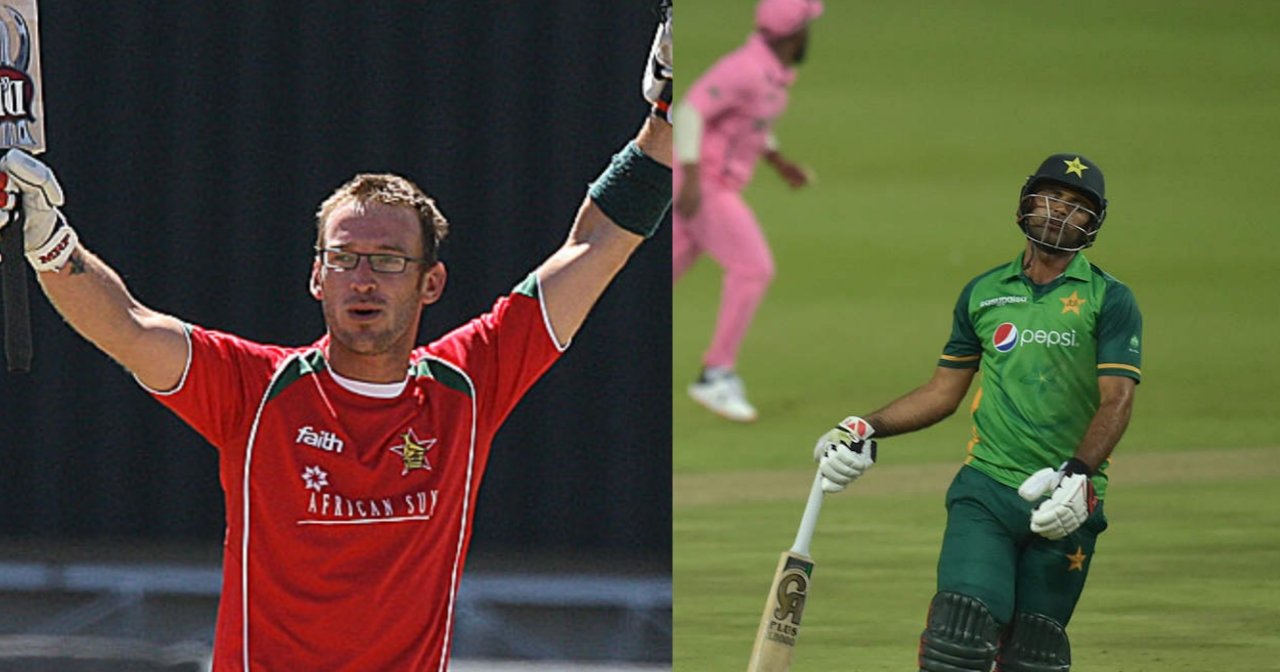 Scoring runs for the team is the most excellent satisfaction that any cricketer would have. Scoring runs on an international level isn't easy because bowlers are well polished to dominate over batsman. Cricketers like Sachin Tendulkar, Ricky Ponting, and Brian Lara have shown us the batting class by scoring runs and the way they played the shots. Even opponent used to appreciate their batting. But, as we all know, every coin has two sides; even in cricket, this thing is relatable. A batsman has scored a century majorly; it wents into a winning cause, or even though he scores runs, his team might lose, and that situation can be very disappointing. There are some batters with the highest ODI score in a losing cause. 
In this article, we will feature six batters with the highest ODI score in a losing cause. 
1. Charles Coventry – 194* (Zimbabwe vs Bangladesh)
If you're a true Cricket fan, you can't forget his mammoth inning of 194 against Bangladesh in 2009. The batsman scored 194 in 156 balls in Bulawayo. Charles Coventry played like a beast and smashed all over and helped Zimbabwe reach a massive total of 312 in 50 overs. This is by far the best innings that went in a losing cause.
Zimbabwe were already 1-2 down in the series, and no one expected that Zimbabwe could lose that game. His 194 run knock consisted of 16 fours and seven sixes. But Bangladesh took the game away, and their opener Tamim Iqbal scored 154 runs, and Bangladesh chased the total in 47.5 overs also, Bangladesh won the series 1-4.
2. Fakhar Zaman – 193 (Pakistan vs South Africa)
In the 2nd ODI against South Africa in 2021 at Wanderers Stadium, Pakistan's Fakhar Zaman showed his class while chasing 342 against South Africa. Fakhar Zaman's knock of 193 went in vain, and South Africa won the game by 17 runs. His great knock came in just 155 balls, including 18 boundaries and ten sixes, but they only scored 324 runs. 
Aiden Markam was the man who dismissed Fakhar by throwing towards the striker end, and unfortunately, he was dismissed. Still, this knock was appreciated by the fans and many experts via social media. South Africa got a solid start while batting first, and almost every batter contributed to set the target. So Fakhar comes at number 2 in the list of batters with the highest ODI score in a losing cause.
3. Matthew Hayden – 181* (New Zealand vs Australia)
One of the most exciting game in cricketing history where the game went on till the final over, and things went unexpected. In the 2007 ODI series New Zealand vs Australia, while the third ODI was going on, Matthew Hayden dominated all over the Kiwi bowlers; he scored 181 not out of just 166 balls which consisted of 11 boundaries and ten maximum, which helped Aussies to reach 346 in first innings and everyone thought that now Aussies will surely win but, Kiwi batters had other plans.
While chasing, New Zealand lost four wickets at 41 runs, but Craig McMillan and Brendon McCullum played magnificently. McMillan scored 117, but McCullum finished the game by scoring 86* of 91 balls and chased 347. Still, Hayden's knock was very impressive and comes in the list of highest ODI score in a losing cause.
4. Ewin Lewis – 176* (West Indies vs England)
In 2017 at The Oval, West Indies were facing the hosts England in the 4th ODI, and Evin Lewis went on scoring 176 runs in 130 balls, and with his furious and astonishing knock, the team was able to set their total of 356 at the end of 50 overs. Lewis's knock considered 17 fours and seven sixes and was playing at the strike rate of 135.38. But going on the losing side. 
Evin Lewis was retired hurt in the 47th over because of Jake Ball's delivery. Due to unfortunate weather condition, England won the game by DLS method, and England were 258/5 at the beginning of the 36th over. West Indies team was obviously disappointed, but Evin Lewis was declared Man of the Match even after being on the losing side.
5. Sachin Tendulkar – 175 (India vs Australia) 
Team India hosted Australia in the seven-match ODI series in 2009; the series was tied 2-2 before this game, and both sides were desperate to take the lead. Australia gave a total of 350. Thanks to Shane Watson and Shaun Marsh for playing an anchors' role. Watson scored 93 of 89 balls, and Shaun Marsh hit 112 runs a ball, which helped them set 351. 
Victory seemed easy to Aussies, but Master Blaster Sachin Tendulkar had other plans in Hyderabad. Sachin scored 175 runs in 141 balls, and Suresh Raina scored 59 runs, but this wasn't enough, and India lost by three runs. But, this innings of Sachin Tendulkar is one of the most fabulous, knock which ended on the losing side. 
6. David Warner – 173 (Australia vs South Africa) 
David Warner is one of the most delicate openers any team would ever want. Also, he's a fighter and plays with dedication. In 2016 Australia toured South Africa and was already 4-0 down, but mighty Aussies tried hard in their 5th game, but we're defeated and faced a whitewash. South Africa was batting first and scored 327 in 50 overs, and in their innings, Rilee Rossouw was the highest scorer and scored a quick-fire 122 of 118 deliveries. 
Aussies never back off quickly. David Warner charged up and was scoring runs, and everyone almost thought he could finish things but lost his wicket through a run-out when he was batting at 173, and Australia was all out at 296. But Warner was the player of the match.