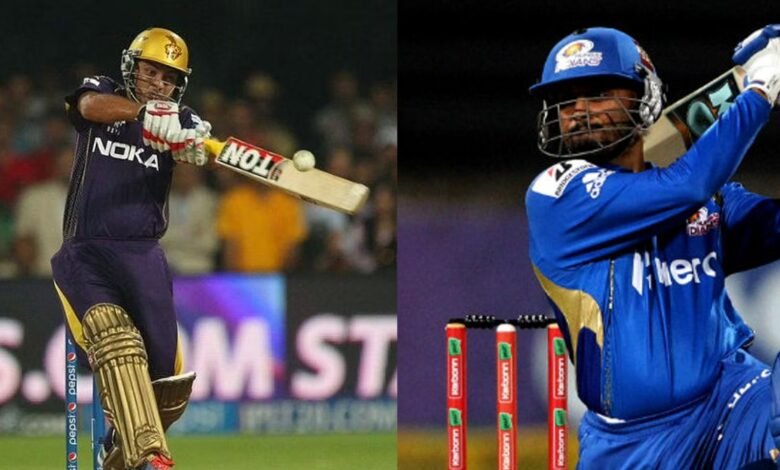 In IPL 2022, Rajasthan Royals have used the interesting strategy of using R Ashwin at No.3. It has worked well for them as Ashwin has scored a few vital runs, including a fifty at that slot. While the strategy seems novel, IPL franchises have used such tactics in the past. One of the objectives is to disrupt the opposition by making their main bowlers bowl at a non-established T20 batter. The main idea, though, is for these players to operate as a pinch-hitter. On that note, in this article, we take a look at five bowlers you might not know have batted at No.3 in IPL history.
1) Zaheer Khan (Royal Challengers Bangalore)
Across an IPL career that lasted almost a decade, Zaheer scored only a total of 117 runs. The left-arm pacer was never a reliable batting option for India, as well. Hence, it was a surprise when RCB sent Zaheer at No.3 against Deccan Chargers in IPL 2011.
RCB was chasing a score of 176 and after the quick loss of T Dilshan's wicket, Daniel Vettori and co. sent Zaheer at No.3. It was a failure as Zaheer was able to survive for two deliveries before Dale Steyn knocked his stumps. The player never batted in the top order again.
2) Piyush Chawla (Kolkata Knight Riders)
Piyush Chawla is one of the bowlers you might not know have batted at No.3 in IPL history. The leg-spinner from Uttar Pradesh was known for his batting skills at the start but when it came to IPL, the talk was only about his bowling.
Gautam Gambhir is someone who tries unorthodox tactics and sending Piyush Chawla at No.3 was one of them. Back in 2016, against Delhi, KKR was chasing a score of 187. Gambhir was out early and Piyush was sent at No.3. It was not a fruitful move, though. The player scored 8 runs from 5 balls and was caught LBW by Zaheer Khan. KKR eventually lost the encounter.
3) Ajit Agarkar (Kolkata Knight Riders)
A player who has scored an international fifty from 21 deliveries can never be ignored for his batting skills. Despite being a frontline bowler, teams always knew that Ajit can hit those big sixes.
Delhi was chasing 197 against Rajasthan in 2008 and they were in need of a special knock. Salman Butt fell early and hence, Ajit came in at No.3. He scored 20 runs from 13 balls but got out to Shane Watson's cracking delivery. KKR lost the game and Ajit never batted again at No.3 in his IPL career.
4) Harbhajan Singh (Mumbai Indians)
Harbhajan Singh was no muck with the bat but not many remember that he was employed at No.3. In fact, in one of the games, Bhajji even enjoyed decent success in this role.
Against KKR in 2011, he scored a 30 but it came from 29 balls. Nevertheless, MI won that game. In all, Harbhajan batted four times at No.3 and has 67 runs while batting in the slot.
5) Sohail Tanvir (Rajasthan Royals)
Sohail Tanvir is also one of the bowlers you might not know have batted at No.3 in IPL history. The Pakistan pacer was popular for his big hits. However, it was still a surprise that he was asked by Shane Warne to take up the responsibility at No.3.
It was against KKR in 2008 that Tanvir was first experimented with by RR at No.3. He scored 13 runs and this included a six and a four. Following the decent success of the pinch-hitter role, in the first semi-final against Delhi, the Pakistan pacer came in the same position again. However, Farvez Mahroof got him out for just five runs. The player never took part in the league again.