cricket
News
"150/3 in 20 overs will not be enough," Twitter reacts as Waqar Younis backs Babar Azam and Mohammad Rizwan to regain their form in T20 World Cup semi-final against New Zealand
Neither Babar nor Rizwan has played a match winning innings for Pakistan in the 5 games of T20 World Cup so far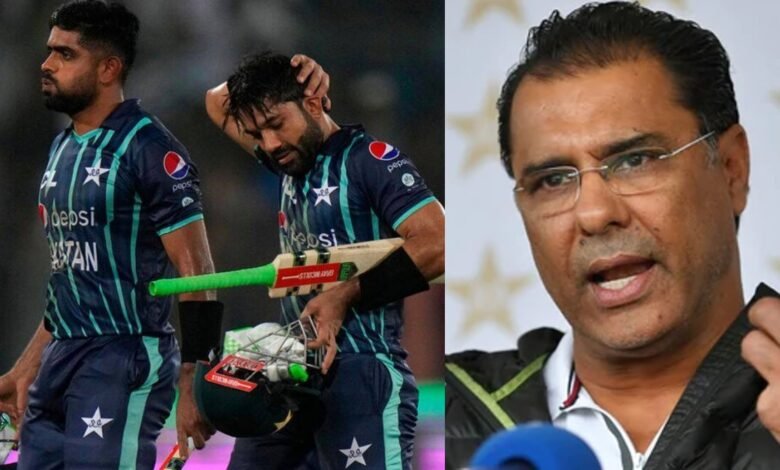 As Pakistan prepares to go into a big World Cup semi-final against New Zealand later today, the former Pakistan captain Waqar Younis has made a prediction that the out-of-form duo of Babar Azam and Mohammad Rizwan would come good for Pakistan in the big game today.
When the Pakistan cricket team took the flight to Australia for T20 World Cup 2022, Babar Azam and Mohammad Rizwan were the two players whom the Pakistan fans were backing to score most of the runs for the team, although a few Pakistan fans were critical of the duo as well, because of their slightly low strike rates.
However, in the ongoing T20 World Cup, the strike rate has not been an issue for Babar and Rizwan. They have just not scored the runs as consistently as the fans had expected them to and the fact that Pakistan has still reached the semi-final has only been possible because Pakistan's middle order has stepped up and the bowlers have done well.
Not all fans reacted positively to the tweet of Waqar Younis
Waqar Younis posted a tweet that today at the big stage, the two main players of Pakistan at the top of the order will come into their own and score a lot of runs for Pakistan. While it was a typical tweet of a former Pakistan captain backing his players, Some of the fans didn't react positively to the tweet.
A few fans were of the opinion that if Babar and Rizwan actually come good and bat for a long period of time, it would mean that Pakistan would remain stuck at a below par score because they would bat at a low strike rate.
It would be interesting to see if Babar and Rizwan finally regain their form today as Waqar has predicted. So far in the tournament, none of these two players has scored a single half century for Pakistan in the 5 group games that they have played.
Here are some of the reactions of the cricket fans to the tweet of Waqar earlier today –
150/3 in 20 overs will not be enough https://t.co/eizCh3EPWa

— S h r i k a n t 💫 (@imsrm11) November 9, 2022
Lol don't get on the right side now… we remember your pathetic criticism on both & sharing dressing room stories… so get a life 👎 https://t.co/5BS0ZV83hu

— Bilal Muhammad Khan (@Muhammad7277) November 9, 2022
having goosebumps already hskdjskdkd, i know each ball gonna make me crazy https://t.co/2BPBKupE7A

— r (@kaiyounini) November 9, 2022
Waiting for their comeback 😭 ab criticise krty huy bhe Dil sy bura lagta hai bhai 💔 https://t.co/A2Xt9e623O

— Talha Mir (@TalhaMir15) November 9, 2022
Sab line pe aa ruhey hai. Ahista ahista https://t.co/cRMjbkscPN

— Saad Butt (@CricBellz) November 9, 2022
15-17 over tk out na ho and 5-6 run rate se run banaye … koi bhi out nahi krna chahe ga 😂😂😂 #T20WorldCup https://t.co/6w4h10sylH

— HitzMsdian (@jayalwalhitesh) November 9, 2022
Atleast they need to show intent https://t.co/qcX2zbrRcG

— K A S H I F (@Kashif03M) November 9, 2022
Abhi tak jinxing chal rahi my poor riz-babar🤕 https://t.co/f5YqidFGgG

— call me marve (@40ballsfifty) November 9, 2022