IPL
News
T20 Leagues
"You will hear about him a lot in coming years," Gujarat Titans skipper Hardik Pandya showers praise on Abhinav Sadarangani
Abhinav Sadarangani finished a very close game for Gujarat Titans batting at no. 7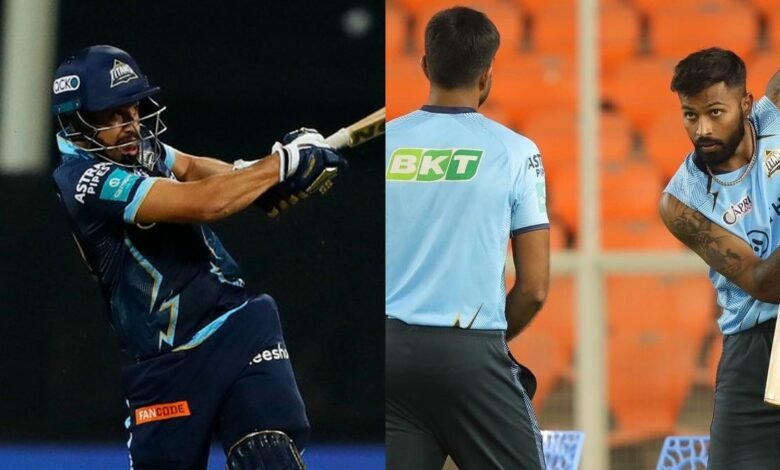 The Gujarat Titans captain Hardik Pandya is of the view that the Indian fans and the world cricket fans will get to hear the name of Abhinav Sadarangani a lot in the coming years. Yesterday, Sadarangani played his first ever IPL game against Lucknow Supergiants and he walked in to bat in a very tricky situation when Gujarat Titans needed 20 runs off the last two overs.
Lucknow had the services of Dushmantha Chameera and Avesh Khan to bowl the last two overs and since both of them are quite quick through the air, it was not easy by any means for a newcomer to walk in at a difficult position of no. 7 and get the job done for the team.
Abhinav Sadarangani looked extremely confident in his debut game for Gujarat Titans
Abhinav Sadarangani, however, looked very confident right from the word go and went down the ground against Chameera just as the Sri Lankan pacer missed his length trying to go for a yorker.
The other batsman Rahul Tewatia, who himself was playing very well, trusted Sadarangani a lot as well and didn't go for a quick single off the last ball of the 19th over, backing Sadarangani to find a boundary early in the 20th over against Avesh Khan.
Sadarangani did exactly what Tewatia backed him to do, as he hit a boundary through the off side against Avesh early in the 20th over and got the game done and dusted without too much fuss. Once it was down to less than a run a ball, Gujarat was never going to let it slip from there.
The captain Hardik Pandya was full of praise for Sadarangani in the post match presentation as he insisted that this was not the only time that Sadarangani's name was going to be the talk of the town. It would be the case quite regularly in the coming years, but Hardik also credited the whole team for a winning start to their IPL campaign.