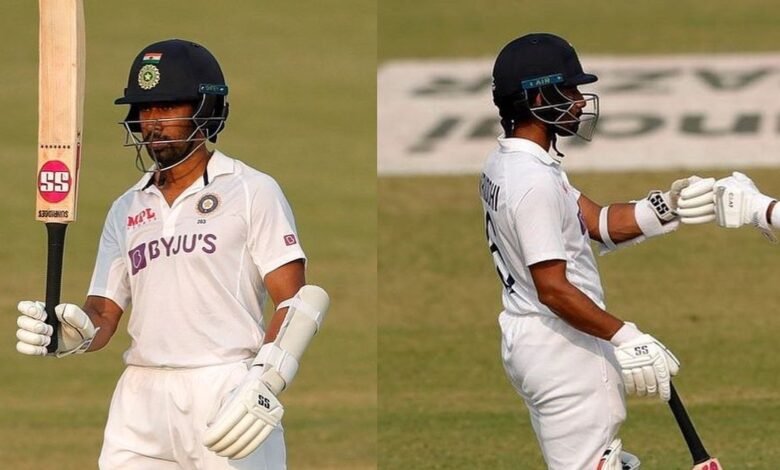 37-year-old Wriddhiman Saha has become the oldest wicketkeeper-batsman to score a half-century for India in test cricket as he got to the fifty run mark on the 4th day of the first test match against New Zealand in Kanpur.
Saha had a stiff neck because of which he didn't keep wickets for India on day 3 of the game, but when India needed his batting, having lost 6 wickets on the fourth day, Saha turned up with the bat despite a troublesome neck.
And not only did he turn up, Saha also ensured with a half-century that India were in a position to declare the innings rather than getting bowled out.
Wriddhiman Saha is not the first choice wicketkeeper for India anymore with the emergence of young Rishabh Pant, but his spot as the second choice keeper would also have been under threat if he had not scored this half-century as another young Indian wicketkeeper KS Bharat has come through the ranks now.
KS Bharat actually kept wickets in Saha's absence in Kanpur on day 3 and there were already murmurs that India should replace Saha with Bharat for the Mumbai test match in a few days' time as he is a future prospect.
With this half-century now, Saha might have confirmed his spot in the Indian XI for Mumbai, but only if he is fit. There are still question marks over his fitness, as he didn't keep wickets on the 5th day of the Kanpur game again.
Farokh Engineer was the oldest Indian wicketkeeper to score a half-century before Wriddhiman Saha
Before Wriddhiman Saha, it was Farokh Engineer who held the record of being the oldest Indian wicketkeeper to score a test match fifty as he scored one against England in 1974 when he was 36-year-old.
The former Indian captain MS Dhoni, who is also regarded as the greatest ever wicketkeeper-batsman produced by India, scored his last test fifty in 2014 when he was 33 years of age.
Oldest Indian wicketkeeper to score a Test fifty:

37y 35d – Wriddhiman Saha in 2021
36y 307d – Farokh Engineer in 1974
35y 20d – Syed Kirmani in 1985
34y 41d – Nana Joshi in 1960
33y 39d – MS Dhoni in 2014#INDvNZ

— Kausthub Gudipati (@kaustats) November 28, 2021