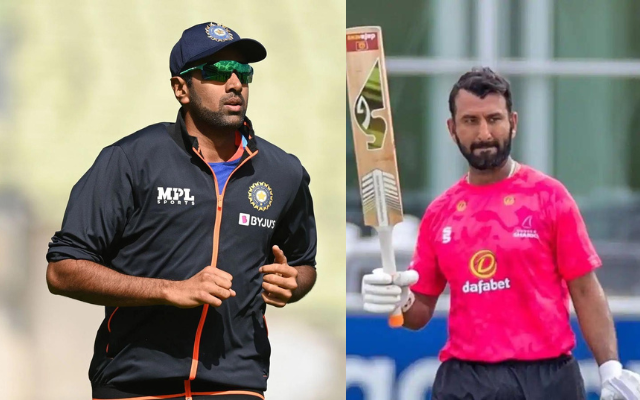 Ravichandran Ashwin, a seasoned spinner for Team India, has pointed out how Cheteshwar Pujara has shown excellent batting form while competing for Sussex in English county cricket.
On Friday, he discussed the subject of the batter's success in both red-ball and white-ball matches for Sussex on his YouTube channel. He said this batter has succeeded in both of these types of formats. In the Royal One-Day Cup, Pujara's better strike rate was one of the topics he discussed.
What did Ravichandran Ashwin say about Cheteshwar Pujara?
As the 2023 season of the Indian Premier League approaches, Ashwin hypothesized that teams would be monitoring batters' previous performances in preparation (IPL). The 35-year-old went on to say that it is a huge benefit for Sussex to have a seasoned campaigner like Pujara, especially considering that most of their senior players skipped the Royal One-Day Cup to participate in The Hundred 2022:
"During the Royal One-Day Cup, a large number of local players and even support staff members will go to compete in The Hundred. Therefore, when I signed a deal with Yorkshire in the year 2020, I made it a point to share my experience with other players, seeing as how they move players from their second teams into the first team. They participate in this tournament to develop their junior players. In a league such as this, having players like Cheteshwar Pujara is like having gold dust. Because of his years of expertise and a wide variety of gaming knowledge, he has been in fantastic shape. He has been accelerating his form recently. He is racking up an incredible number of runs at a far faster clip than anybody else. There will soon be a shortened version of the auction. Will the Indian Premier League franchises consider this?" said Ashwin.
At the IPL 2022 super auction, Pujara went unsold to any team. During the 2021 season, he was a member of the Chennai Super Kings (CSK) roster. However, he did not get to participate in even a single game during the whole of the edition.
Ashwin discussed how Pujara's continuous performance in getting huge runs for Sussex has helped him make a return to India's Test lineup for their postponed fifth Test against England in July.
"Cheteshwar Pujara is enjoying a sensational season so far for Sussex. For quite some time, he has maintained a scintillating level of form. He seems to be doing it just for pleasure. Even in the games for the County Championship, he got off to an outstanding start for Sussex. Although Sussex did not do well in the County Championship, they fared very well in the Royal One-Day Cup," added Ashwin.
In the one-off test that was played at Edgbaston, Cheteshwar Pujara was given the responsibility of opening the batting order. Although he was out after scoring 13 runs in the first innings, he made a substantial contribution to India's second attempt by hitting 66 runs off of 168 deliveries.