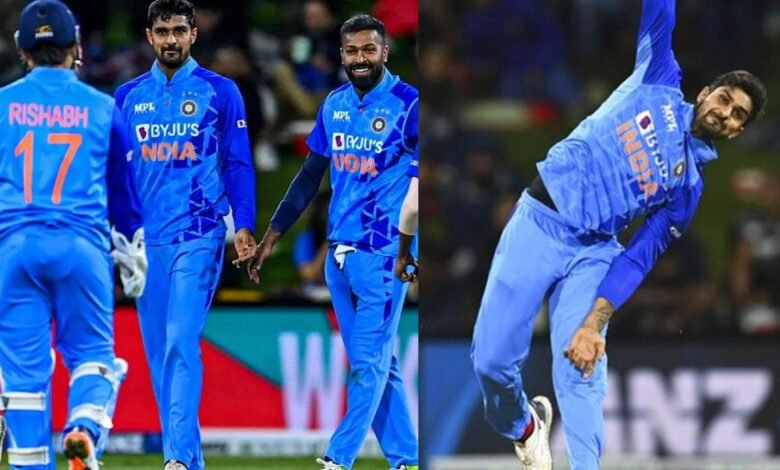 Fans on Twitter lauded Deepak Hooda for his exceptional show with the ball in the second T20I against New Zealand. They praised him and asked him to improve his batting against pace bowling so that India can get his own Glenn Maxwell.
Deepak Hooda returns with the figures of 4/10 in the second T20I against New Zealand 
India locked horns with New Zealand in the second T20I of the three-match series. It was a high-class all-round performance from India's side that saw them clinching the first game by 65 runs and taking a 1-0 lead in the series.
It was Suryakumar Yadav, who stole the show with the bat as he scored unbeaten 111 runs to help India post a total of 191 runs on the board. After that, it was a clinical performance with the ball from the visitors' end as they bundled out the opposition for just 126 runs and win the game by a big margin.
But not many expected Deepak Hooda to set the stage on fire with the ball. The off-spinner was the pick of the bowlers for the Indian team as he took 4 wickets in his spell of 2.5 overs and conceded just 10 runs.
Hooda first removed Daryl Mitchell for 10 runs and then wrapped up the tailenders in Ish Sodhi, Tim Southee and Adam Milne to help his side bundle out the Black Caps for a low total.
Fans on Twitter praise Deepak Hooda for his heroics with the ball against New Zealand 
Deepak Hooda failed to set the stage on fire but he made sure that he made many praise him for his heroics with the ball. Fans on Twitter lauded him for his heroics. They urged him to improve his batting against pacers so that India can get their own Glenn Maxwell. Here are some of the reactions:
Why deepak hooda never bowled in Wt20 , why no question on rohit's captaincy?

— Mohammad Umair (@umairrr_20) November 20, 2022
Captain Rohit didn't use Hooda the bowler. hardik should be the captain of white ball format.

— Player of the Decade 👑 (@vk18_GOAT) November 20, 2022
Imagine 4 wickets to Deepak hooda and captain is Hardik 🤡

— aJ (@aJ_vuq) November 20, 2022
They are wasting Deepak Hooda Talent !! He is a good All-Rounder give chances him at the top. He will surely perform like he did today with the bowl.

— Knight Rider (@iKnightRider19) November 20, 2022
That hattrick and now these 4 wickets 😂

— StatpaddersOut (@StatpaddersOut) November 20, 2022
This one match exposed our bcci selectors.

— SavageCreature (@SavageCreature) November 20, 2022
But it's still a mistry that why virat n rohit was not giving hooda bowling

— Sudipta Kumar (@sjena489) November 20, 2022
Whatever ashwin can do,Hooda does it better https://t.co/o35wQateqZ

— … (@reverse_scoop17) November 20, 2022
4 wkts for hooda 🤣🤣 https://t.co/uQGjMNAer0

— ravi (@hail_indra) November 20, 2022
If only Hooda can develop his game against pacers , we will have our own Glenn Maxwell .

— V 🇮🇳 (@Criclover_V) November 20, 2022
Missed a Hattrick 🥹

— Dr Khushboo 🇮🇳 (@khushbookadri) November 20, 2022
every ball hooda bowls is slap on Rohit
And Every wicket taken by hooda is kick on Rohit Sharma ass

— CRICKET DUGOUT (@Cricket_Dugout) November 20, 2022
Hooda Bowling >>>> Hooda Batting

— MAHIRAT 7-18 (@Mahirat0007) November 20, 2022
Rohit didn't used Hooda much

— • (@staan_MC) November 20, 2022
Was there any chance to do experiments? Half of the NZ team went back to pavellion when hudda started his spell they're ensured that they'll win?

— Be human (@Chamkeelatara) November 20, 2022
next match take samson in place of pant, umran in place of siraj and we will be good to go

— your neighbourhood milf (@aarush_notarush) November 20, 2022