cricket
News
Test Cricket
'This Is What Exactly McCullum And Stokes Would Have Wanted'-Former England Captain Heaps Praise On The Partnership Between Jonny Bairstow And Jamie Overton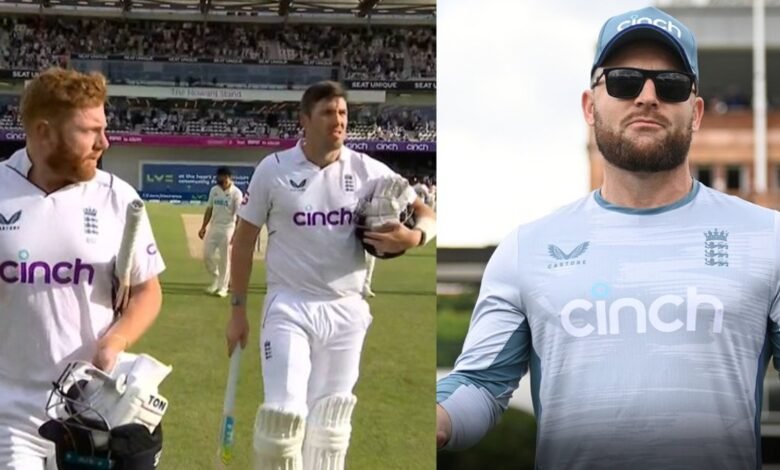 Jonny Bairstow and Jamie Overton impressed former England captain Nasser Hussain by unleashing a spectacular counter-attack on Day 2 of the second Test match against New Zealand at Headingley. Hussain heaped accolades on the two players. In addition, Hussain believed that the pair served as a model for the top-order batsmen.
Bairstow and Overton concluded day two with an undefeated stand of 209 in 37.1 overs, scoring at an easy 5.62 runs per over. When England was struggling at 55-6 and none of the top four was able to make it to double digits, the two players decided to join forces. After the day's play ended, England was only down by 64 runs in comparison to New Zealand's total after the first innings.
What did Nasser Hussain say about Jonny Bairstow and Jamie Overton
In a commentary that he wrote for the Daily Mail, Hussain praised the pair's dynamic collaboration and expressed his belief that it is exactly what the team's coach and the captain would have wanted from the group. He observed that the two individuals carried out a strategic counterattack, and he stated:
"The counterattack that Jonny Bairstow and Jamie Overton just executed was really fantastic. It was an outstanding illustration of the kind of performance that Brendon McCullum and Ben Stokes are hoping to see from this Test side. There is more to it than just charging on even though the odds are stacked against you. Figuring out when the opportune moment to launch an assault is crucial.
Bairstow and Overton, who showed genuine nous on his Test debut, timed it to perfection. And it's the type of performance that the top order may be able to benefit from because you have to strike the correct balance."
Bairstow, who was honored as "Player of the Match" for his performance in the second test, completed his century after facing just 95 balls in total. Both Trent Boult and Tim Southee caused mayhem for the top order of the home team's batting lineup, with the former taking three wickets.