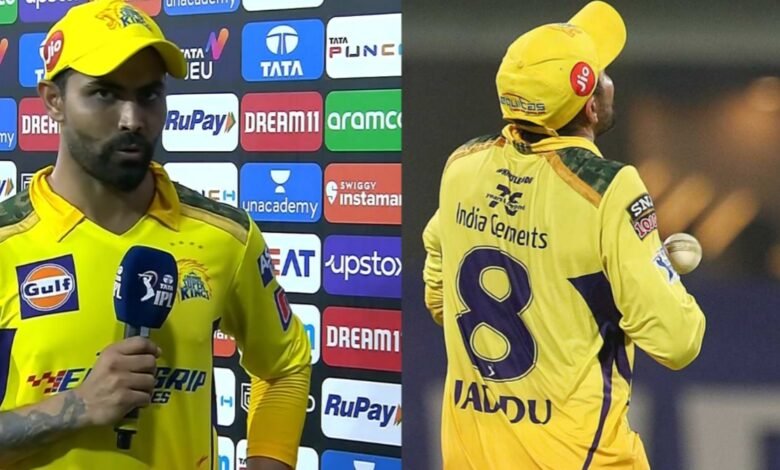 The CSK skipper Ravindra Jadeja is one of those players who are amongst the top fielders in the world. If Jadeja is under a delivery which is high up in the air, one would generally imagine that the catch would be taken safely. It has hardly ever happened in a long, long time that Jadeja has dropped a catch.
But, yesterday in one of CSK's most crucial game against Mumbai Indians, Jadeja didn't just drop one catch, he ended up dropping two catches and both of them were fairly straightforward ones, where he had enough time to get under the ball and complete the catch.
When Jadeja was asked about his fielding in the post match presentation ceremony, where he was in a happy mood because of CSK's victory, he said these kind of games is the reason why he never takes his fielding for granted, even though people keep praising his fielding because he knows he needs to keep working on his fielding everyday.
Ravindra Jadeja has had a tough time in IPL 2022 so far
Ravindra Jadeja has had a tough time all around in the first half of IPL 2022 so far. He was appointed the captain of CSK only a couple of days before the tournament and while he has led the side decently enough, the results haven't gone their way and CSK has won just 2 out of their 7 games so far.
Jadeja himself has struggled with both bat and ball and while his struggle with the ball might be because of the pitches which have been very batting friendly and at times in the favor of the fast bowlers in the earlier stages of the games, Jadeja's struggle as a batsman has been a bit concerning for CSK.
However, the win against Mumbai Indians, which has come at the right time for CSK, won't just give them the necessary momentum as a team, it might also lift the batting and bowling form of their captain Ravindra Jadeja who is an extremely vital cog of the team.