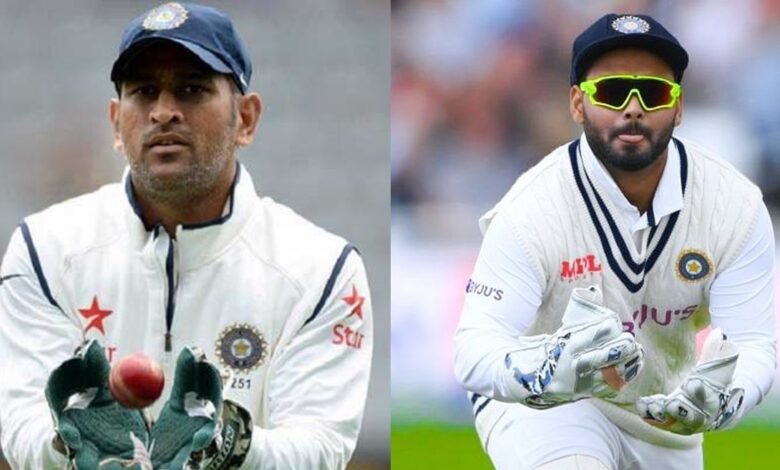 Rishabh Pant, in the upcoming test series between India and South Africa, might become the fastest Indian wicketkeeper to complete 100 dismissals in test match cricket. Pant, so far, has played 25 test matches for India and has got 89 catches and 8 stumpings to his name.
The fastest Indian wicketkeeper, to date, to complete 100 dismissals in test cricket is MS Dhoni who did it in 36 test matches, while his successor Wriddhiman Saha took an extra test match as compared to Dhoni and got to the tally of 100 dismissals in 37 tests. Kiran More is at no. 3 in the list with 39 test matches to complete 100 dismissals.
It might be a bit surprising for a few people how Rishabh Pant has got so close to 100 dismissals so quickly, while the likes of Dhoni and Saha, both world-class keepers, needed many more test matches to get there. One of the reasons behind that is Pant has played a lot of test matches overseas right at the start of his career.
Rishabh Pant has already been on five overseas tours in his 3-year-long test career
Rishabh Pant has already been on two tours of England and two tours of Australia, apart from being on a tour of New Zealand. What happens in the test matches in India or in the Asian conditions, in general, is that most of the dismissals are LBWs or caught by the close-in fielders at short leg, silly point, slip or leg slip.
While in the conditions where the fast bowlers have a bigger role to play, which happens when India tours countries like England, Australia and New Zealand, the wicketkeeper has plenty of catching opportunities off the outside edge induced by the seam bowlers.
As far as Wriddhiman Saha is concerned, he started his test career way before Pant, but he has not played as many test matches in England and Australia as Pant has played. Saha has played most of his test matches at home and although he is regarded a better keeper than Pant, his rate of dismissals behind the stumps is not as high as Pant.