News
Ravi Shastri Praised MS Dhoni's Decision To Suddenly Quit Tests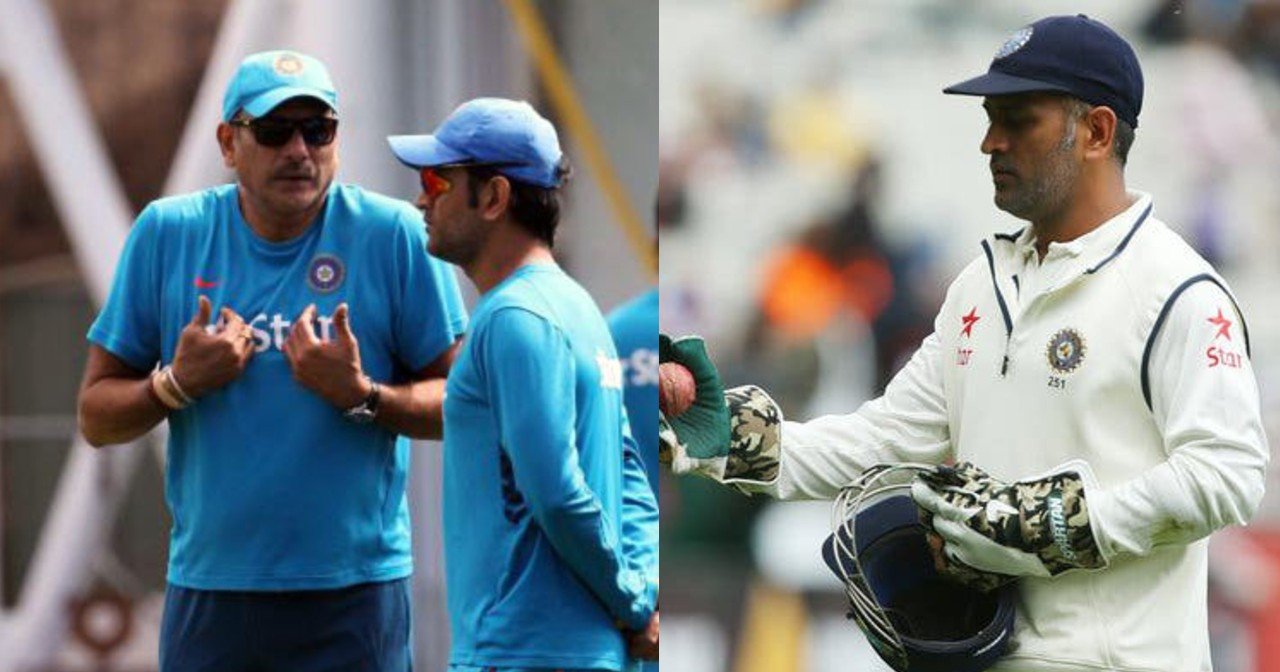 Mahendra Singh Dhoni, the former Indian skipper, is hailed as one of the greatest cricketers to have played for the Indian cricket team. The legendary cricketer was also one of the most successful skippers in the history of Indian cricket, having won all the tournaments and series that came his way during his stint as a skipper. He won all the three ICC trophies and took the Indian side to the number 1 position under his leadership.
India's 2011 World Cup-winning captain's journey with the Indian side has been inspiring. The former skipper left everyone shocked when he announced his retirement from international cricket last year on 15th August. However, this wasn't the first time that he left everyone shocked by his decision.
It was in 2014 during the Australia tour when MS Dhoni left the whole cricket fraternity in shock after he announced his retirement from the Test format. With only 90 Tests under his belt, Ms decided to quit Test format suddenly and midway through that series, not dragging his career in that format to 100 Test matches.
His decision to retire from the longest format midway through the series still remains one of the biggest mysteries of Indian cricket. However, Indian head coach Ravi Shastri feels that the decision was selfless and brave.
"It was selfless and brave" – Ravi Shastri
Calling MS Dhoni's decision 'selfless' and 'brave', Indian head coach Ravi Shastri lauded MS Dhoni's decision to end his Test career. Ravi Shastri, who was with team India during that tour to Australia in 2014 as director of the team India, recalled the conversation with MS about his decision to retire from that format. In his book "Stargazing: The players in my life", that released recently, Shastri wrote:
"MS was India's, in fact the world's, biggest player then with three ICC trophies under his belt, including two World Cups, and some very impressive silverware from the IPL. His form was good, and he was just 10 matches shy of completing 100 Tests,"
"Still one of the top-three fittest players on the team, he would have the opportunity to boost his career stats if nothing else. True, he wasn't getting any younger, but he wasn't that old either! His decision just didn't make sense," 
He added:
"All cricketers say landmarks and milestones don't matter, but some do. I approached the issue in a roundabout way, probing for an opening to make him change his mind. But there was a firmness to MS's tone that stopped me from pushing the matter any further. Looking back, I think his decision was correct; also brave and selfless,"
"Giving up on the most powerful position in cricket in the world, in a way, couldn't have been easy."
MS has represented the Indian cricket team in 90 Tests, 350 ODIs, and 98 T20Is. In the purest format of the game, the former Indian skipper has scored 4879 runs at an average of 38.09. While he has amassed 10773 runs at an average of 50.58 in the ODI format and 1617 runs in the shortest format of the game
Further, Ravi Shastri wrote about MS Dhoni's wicket-keeping skills. Calling him an 'unorthodox cricketer', Ravi Shastri lauded his technique and called MS' hands while keeping "quicker than a pickpocket's". He also asked youngsters to not try to imitate him unless it comes naturally to them.
Meanwhile, MS Dhoni will be next seen in action in the upcoming second half of the Indian Premier League, which will begin from September 19th in the UAE. MS Dhoni will lead his team Chennai Super Kings to play against the arch-rivals Mumbai Indians in the opening clash on September 19th.