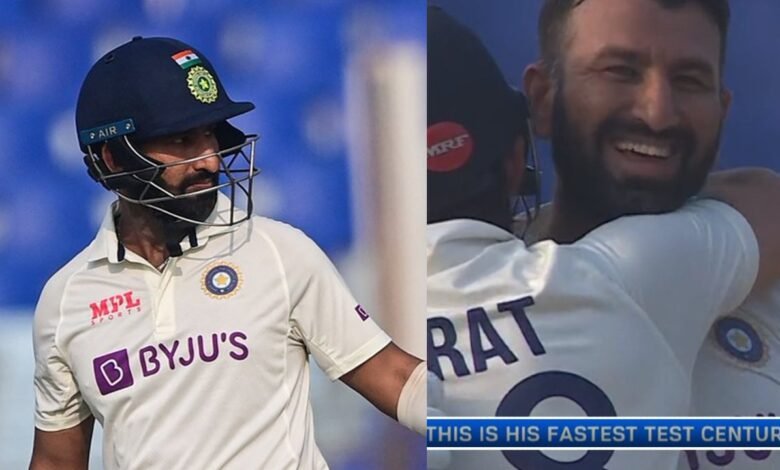 Fans on Twitter went berserk after Indian batter Cheteshwar Pujara smashed his Test century after three long years with a high strike rate in the first Test against Bangladesh. They lauded the batter for batting aggressively and smashing his fastest Test century.
Cheteshwar Pujara smashes his fastest century in the second innings of the first Test against Bangladesh 
It was heartbreak from Cheteshwar Pujara when he was dismissed for 90 runs in the first innings. But he completed his unfinished business as he smashes a century in the second innings and put his team in a dominating position.
Pujara came to bat when KL Rahul was back in the hut early. After that, he played a second fiddle to Shubman Gill, who smashed his maiden Test century. But once the youngster was back in the hut, the senior batter took the onus onto his hands and switched on the aggressive button.
With declaration around the corner, Pujara took the aerial root and went from  46*(86) to 102*(130). The right-hander scored a Test century after 1,443 days and 52 innings. It was also his fastest Test hundred.
Pujara batted with a strike rate of around 80 and punished bad balls all over the park. His century put India in a strong position as they declared the innings on 258/2, setting Bangladesh the target of 513 runs.
Fans on Twitter react as Cheteshwar Pujara smashes his fastest century in the second innings of the first Test against Bangladesh 
As Cheteshwar Pujara smashes his fastest century in the second innings of the first Test against Bangladesh, fans on Twitter were elated in joy. They took a jibe at England's Bazball concept, saying that the batter can do what they do but they can't do what he does. Here are some of the reactions:
Yaara o yaara
Inspired by Lara
Pujara can Bazball
Bazball can't Pujara 😉 #BANvIND pic.twitter.com/pAsjz8wciR

— Wasim Jaffer (@WasimJaffer14) December 16, 2022
Hundred by Cheteshwar Pujara – the 47 months long wait finally gets over.

Missed out from the century in the first innings, but made sure to reach this time. pic.twitter.com/eRenUR8pls

— Mufaddal Vohra (@mufaddal_vohra) December 16, 2022
Pujara is the new Buttler 😁👏

— Sushant Mehta (@SushantNMehta) December 16, 2022
Pujara scored his first Test hundred after 1443 days, A champion. pic.twitter.com/yaA5RukE2H

— Johns. (@CricCrazyJohns) December 16, 2022
The happiness & relief in the face of Pujara is beautiful. pic.twitter.com/KPJTl1XoCD

— Johns. (@CricCrazyJohns) December 16, 2022
The wait is over, a deserving hundred for the rock of Team India, Cheteshwar Pujara. pic.twitter.com/SEpLTBuTaq

— Johns. (@CricCrazyJohns) December 16, 2022
Cheteshwar Pujara scored a Test century after 1,443 days and 52 innings.

It's also his fastest Test hundred (130 balls).

— Mufaddal Vohra (@mufaddal_vohra) December 16, 2022
May be Captain told him to play with intent. https://t.co/pHEcRq4Kl4

— Harish Kum@r 🔥 (@HarishDongala) December 16, 2022
Well done Cheteshwar Pujara! Never write a champion player off! 🙏🏻🙏🏻🙏🏻🙏🏻 https://t.co/7qcPCPkZEZ

— Troll cricket unlimitedd (@TUnlimitedd) December 16, 2022
Finally https://t.co/Dud2Ry6GFf

— sah3b (@sahebabdullah) December 16, 2022
Bro accelerated quickly or else it would have been another tendulkar's 194 declared

— ▄︻̷̿┻̿═━一 (@NO_VIS0R) December 16, 2022
Best Test batsman of India @cheteshwar1 🤍.In this Era where people are just watching shorter format of game,this man make us fall in love with orthodox cricket . #INDvBAN

— Mayank Shekhar (@MayankS10336598) December 16, 2022
Pujjiball >>>bazball
Always and ever🔥🥂

— Mathurji (@IamMathur0) December 16, 2022
The era of puzzball

— 🇮🇳 🇮🇳 🇮🇳 (@cricthinker) December 16, 2022
Played ODI

— Down on Hopes (@AjayGan23736962) December 16, 2022
Happy for pujara 🔥

— 😶 (@yousuf8770) December 16, 2022
He was 64 of 100
Next 30 balls he played with almost 110 strike rate wow

— Bruh (@iamFenix18) December 16, 2022
The last time Pujara scored a test century..at SCG,Kuldeep took a 5-fer.
here too Kuldeep has a 5-fer.

— movieman (@movieman777) December 16, 2022
The real aggressive one

— Arka (@ARKA0432) December 16, 2022
Well deserved 100 👏👏

— K 🇮🇳 (@VamosVirat18) December 16, 2022
❤️‍🔥 fastest

— Aryan Sah (@AryanSah03) December 16, 2022