News
MS Dhoni's Old Statement About Ravindra Jadeja Goes Viral After The All-Rounder Produces A Stunning Batting Performance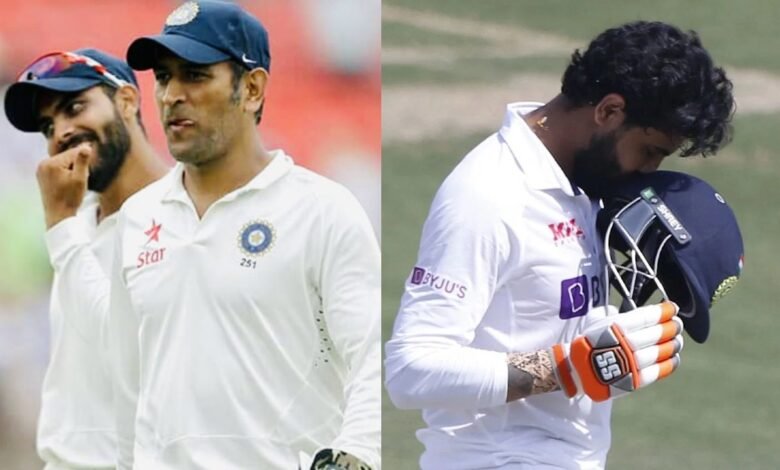 The top-performer for India, so far, in the ongoing Mohali Test has been Ravindra Jadeja. The star all-rounder struck 175 runs with the bat before taking a wicket before stumps. After this show, an old quote by MS Dhoni about Jaddu has gone viral. In this article, we take a look at MS Dhoni's old statement about Ravindra Jadeja that has gone viral after the Indian all-rounder's recent performance.
Ravindra Jadeja delivers a solid performance with the willow
In recent years, apart from his contribution with the ball, Ravindra Jadeja's performance with the bat has also been crucial. Especially in away encounters, Jaddu has been extremely important to Team India due to his knocks in the lower middle-order.
Against Sri Lanka, the Saurashtra cricketer was at his best. In only 228 balls, the all-rounder made 175 runs and remained unbeaten before India declared the innings. Jaddu was the highest scorer for India and made batting look easy while at the crease. Considering he was struggling with this task a few years ago, this has been a phenomenal turnaround for the cricketer.
MS Dhoni's old statement about Ravindra Jadeja goes viral
The genuine all-rounder is one category of players that India has struggled to unearth recently. However, Ravindra Jadeja has been brilliant in this department. It was in 2012 that Jaddu made his Test debut under the captaincy of MS Dhoni against England. That series did not go India's way, but introduced Jaddu to the Test arena. One comment made by MS Dhoni then has now gone viral. Here is a look at the Tweets regarding the same:
Was in 2012 after Nagpur Test vs England… MS Dhoni has said in PC that we will some day see the true value of Jadeja in Test cricket.

It's taken a while, but we are here. The second half of Jadeja's career would be that of a proper Test all-rounder in all conditions. #EngvInd

— Chetan Narula (@chetannarula) August 6, 2021
"Ravindra Jadeja can be a useful all-rounder for India in Test cricket. We should wait and give him the chance to develop his batting skills. He will be a real asset to the team then."

You know who said that?

MS Dhoni. At Nagpur. In December 2012. #IndvSL #CricketTwitter

— Chetan Narula (@chetannarula) March 5, 2022
Jaddu has already been promoted up the order in limited-overs cricket, and it may not be long before this tactic gets used in Tests. The player was promoted in England last year in the Test series. Now, the new management might try it as a regular practice, considering the player's form.