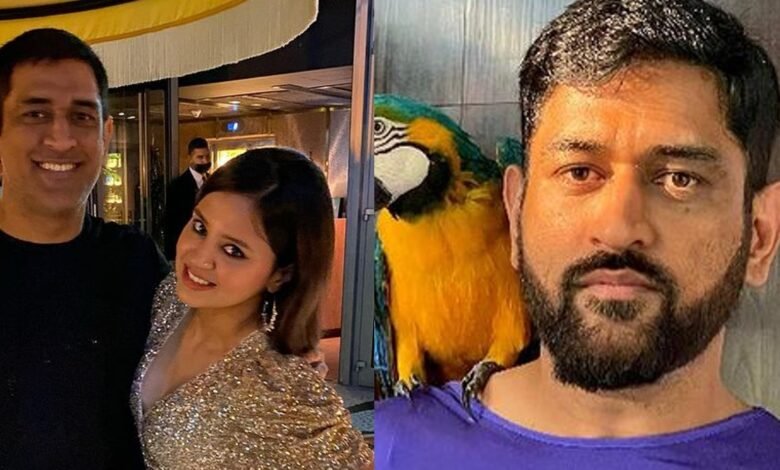 Everyone knows the former Indian captain MS Dhoni is very fond of his pets, and he has got a lot of pets at his farmhouse, but yesterday MS Dhoni's wife Sakshi posted a picture of MSD with his new pet, and it was unique. It was actually a parrot of a different breed.
It's a picture uploaded on Instagram which is going viral now where Dhoni can be seen having a cup of tea, while the parrot who, Sakshi wrote in the caption, is named "Honey" is sitting calmly on Dhoni's shoulder.
Dhoni, even when he was very active as a professional cricketer, used to spend a lot of time with his pets with whatever little time he used to get from his professional duties.
Not just Dhoni, but his whole family including his wife and his little daughter Ziva is fond of birds and pets. A few months back, the Dhoni family had rescued a beautiful injured bird they had found at their farmhouse lying unconscious.
https://www.instagram.com/p/CBN_DbSHMXk/?utm_source=ig_web_copy_link
Apart from this new parrot that Dhoni has got, he has also got a couple of ponies at his farmhouse with quite a few different breeds of dogs. His wife Sakshi often uploads pictures and videos of Dhoni's pets at his farmhouse.
MSD has returned home after three months and is enjoying being among his pets again
Dhoni has been away from his home for around three months recently, first playing in the IPL as CSK captain and then mentoring the Indian national team in the T20 World Cup 2021. Now that he has returned, he is back among his pets again and enjoying it.
https://www.instagram.com/p/CWYB1EZKJmI/?utm_source=ig_web_copy_link
MSD will have a decent break before the next IPL now, but he is expected to travel to Tamil Nadu next month where a grand function is being planned by the CSK owner N Srinivasan to celebrate the 4th title triumph of CSK which they accomplished last month in the UAE by beating KKR in the final of IPL 2021.
It remains uncertain at this point if Dhoni will lead CSK in the next IPL season or not.