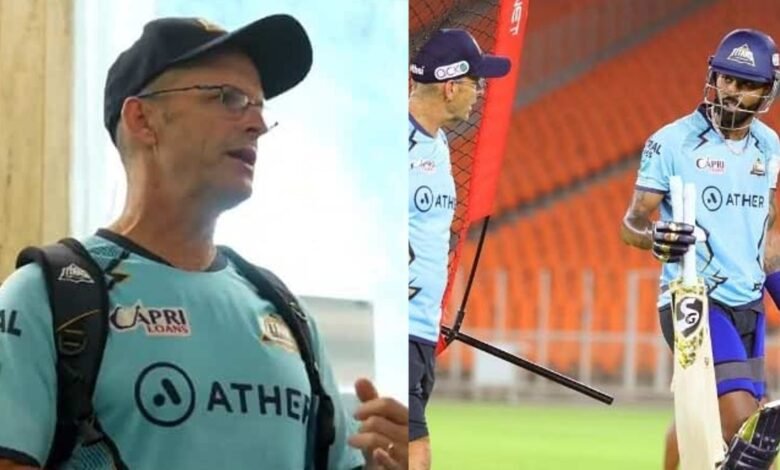 IPL 2022: Gary Kirsten, who serves as the batting coach and mentor for the Gujarat Titans (GT), has lauded the team's captain, Hardik Pandya, as a natural leader and characterized him as a player who is eager to continue gaining knowledge.
Pandya, who is now 28 years old, guided GT to victory in their first-ever IPL season during the most recent tournament that just wrapped up. The all-rounder not only led with the bat but also led from the front by scoring 487 runs in 15 matches, which resulted in him receiving a lot of accolades for his leadership.
IPL 2022: Gary Kirsten heaps praise on Hardik Pandya for leading Gujarat Titans
Kirsten says that Pandya is eager to get to know his teammates better and enjoys participating in talks that are linked to the sport. In an interview with TOI, he stated:
"Hardik Pandya has left a positive impression on me. Even though I did not know him very well in the past, I now get the impression that he is a cricket player who simply plays naturally and approaches the game head-on. He talks a lot about cricket with other people. He wants to learn, because he wants to grow better at the game, and because he wants to understand his players."
The South African icon continued by saying the following about Pandya, stating that he is a terrific cricketer:
"What makes him stand out is how eager he is to absorb new information. He is one of the players in the group. And we were able to see how effortlessly he assumed the role of leader. He is a game-changing impact player who can win games for you. To have someone on your team who can do that with both the bat and the ball, particularly in a league that is as fast-paced and unpredictable as this one, is quite remarkable."
In addition to having scored the most runs for his team, the captain of Gujarat also contributed with the ball, bowling at a good pace and taking eight wickets. He was the leading run-scorer for his franchise. The Indian Premier League 2022 championship match against the Rajasthan Royals saw his best bowling stats of three for 17 runs. His three victims were three of RR's most dangerous players: Jos Buttler, Shimron Hetmyer, and Sanju Samson.